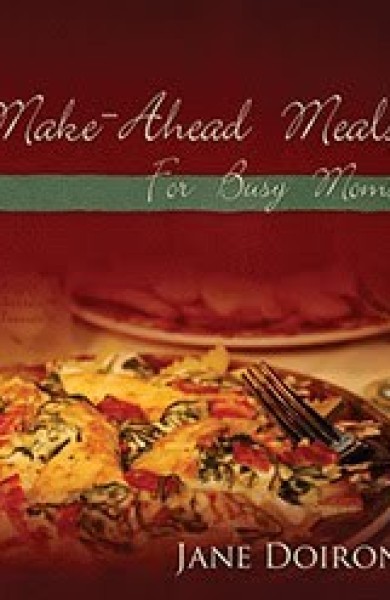 Title: Make Ahead Meals for Busy Moms
AUTHOR: Jane Doiron
PUB DATE: September 2009
Thanks to Pump Up Your Book Promotion for allowing me to take part in this virtual tour of this great cookbook.
ABOUT THE BOOK:
Make-Ahead Meals for Busy Moms Cookbook consists of 140 family-favorite make-ahead recipes, which are recipes that can be frozen ahead, assembled ahead, or cooked ahead and reheated. The cookbook's recipes are a combination of all three.
The Make-Ahead Meals for Busy Moms cookbook includes recipes for freezable meals like Spaghetti Sauce with Meatballs, Sloppy Joe's, Chicken Noodle Soup and Hearty Chili. Recipes for frozen marinated meats such as Teriyaki Chicken, Thai Chicken and Taco Meat allow for quick meals on busy nights. The make-ahead strategy assures that with a freezer stocked with make-ahead meals, busy moms will spend less time at the grocery store and less money on unhealthy prepared or take-out food.
Jane Doiron's goal was to seek out main dish, family-favorite recipes that could be modified into make ahead meals without sacrificing the food's taste and texture by freezing. After years of home-testing recipes, Jane has compiled this must-have cookbook with specific make-ahead directions. In addition, Jane includes her best recipes for clever side dishes, flavorful appetizers and luscious desserts. Imagine opening your freezer to pick out a family-favorite appetizer, main dish, or dessert, and all you have to do is thaw and heat it!
By making meals in advance, when time does permit, busy moms will be rewarded with quick home-cooked meals, appetizers, or desserts, when they really need them.
MY THOUGHTS:
I am going to go on record and say I love reviewing cookbooks. I usually don't buy cookbooks because they are expensive but when given the chance to review them I am all over it and can't wait to get them.
I was so excited to get this one because this one says I could save time, money, effort and still have delicious meals. I love trying new recipes because it takes something ordinary like chicken, pork etc and turn it into something new and exciting.
Honestly if you are like me you get tired of the same foods and are looking for something new well this is the cookbook for you or even to give as a gift.
Not only does this book offer 140 recipes but also there are some helpful tips and measurement equivalents. Jane also breaks the recipes down into what you can make ahead of time and how you can freeze it.
Another great thing about the cookbook is the ingredients are all easy to find and if your store doesn't have that extact brand or type you can easily substitute for something similiar.
The only down side of the cookbook was there was no pictures to accompany the recipes apart from the front and back covers. With that being said just reading the recipes you could picture them in your mind.
Jane as included recipes for appetizers, breakfast & brunch, desserts, soups, side and main dishes. I have tried several recipes and looking forward to the holidays when we have company over to try some of the appetizers.
To date from the cookbook I have made:
– Bruschetta (we loved this recipe)
– Banana Bread, Bran Muffins,
– Hawaiian Bread (for this I ended up substituting macadamia nuts for walnuts as I had everything on had apart from the macadamia nuts, it was still very good)
-Mini Banana Chocolate chip Muffins (although I made these in regular muffin tins)
-Strawberry bread, Chocolate Fudge (this recipe is very similar to the one I make every Christmas)
-Oatmeal Cookies,
-Chicken Parmesan,
-Meat Pies,
-Mini Meatloaves,
-Sloppy Joes (this was great to see in the book as we love Sloppy Joes and I can only find the cans in NB and in Ontario so I usually stock up when I got but now I can make it from scratch)
I am looking forward to trying many more recipes from this great cookbook.
ABOUT THE AUTHOR:
Jane Doiron is a busy working mom of two boys. She is an Elementary School teacher with a passion for cooking and experimenting with recipes. With her busy schedule, Jane has found that make-ahead meals (meals prepared in advance) are time-savers, money-savers and are the best alternatives to eating "take-out", which is not usually a healthy meal choice. Jane's cookbook is the result of her years of seeking out new recipes, experimenting with family-favorite recipes, and turning them into make-ahead meals.
For more information visit: www.makeaheadmealsforbusymoms.com
This book was provided for review by OUTSKIRTS PRESS .
copyright 2010, Cindy (Cindy's Love Of Books)
If you are reading this on a blog or website other than Cindy's Love Of Books or via a feedreader, this content has been stolen and used without permission.