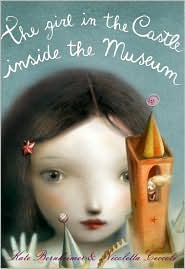 PUB DATE: Feb 2008
The other day I was at the library looking for books for Michael and on the new release shelf was this book. I absolutely feel in love with the cover. I picked it and started to read it right there and I had to borrow this book. Michael loved the story and we are reading it almost every day. We love the book so much that I actually ordered it online for our collection. We are able to borrow the book for three weeks so I am hoping our copy comes in soon if not I will try to renew it again.
The age range of the book was 4-8 years old.
The story is about a tiny girl who lives inside a toy castle, that is in a globe and its inside a museum. She's only visible to the the children who are looking in and who are quiet and look hard enough. The girl is lonely. When the children leave the little girl dreams of them visiting her.
Kate Bernheimer starts the story like a fairy tale that has the familiar "Once upon a time there was a girl who lived in a castle". I think this is the perfect start for this fairy tale. In the story we hear about the little girl's dreams and her ache for wanting a friend like the kids peering in on her. The reader is asked if we want to be her friend and to do that we are asked to put a photo of ourselves in the girl's castle so we keep her company. We are told that she can see us.
The story ends with the reader being asked "Do you see her? She sees you,"
About the author:
Kate Bernheimer has written novels for adults, and is the editor of the literary journal Fairy Tale Review. She is an assistant professor of creative writing in the MFA program at the University of Alabama, Tuscaloosa. She lives in Tuscaloosa, Alabama, with her husband and daughter.
About the illustrator:
Nicoletta Cecolli is the illustrator of many acclaimed picture books published around the world, including The Barefoot Book of Fairy Tales, retold by Malachy Doyle. She lives in San Marino, Italy.
You can see Nicoletta's work HERE. Her illustrations are absolutely beautiful.
copyright 2010, Cindy (Cindy's Love Of Books)
If you are reading this on a blog or website other than Cindy's Love Of Books or via a feedreader, this content has been stolen and used without permission.