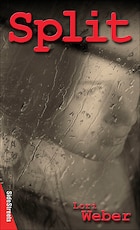 PUB DATE: July 2005
This is Lori's second book. It was another book that I enjoyed reading. Through out the book I kept wondering where in Montreal that it could be taking place. Seeing familiar streets and locations is always nice. Its always nice to see tourist spots that you know about in books. I love Mont Royal and being able to over look the city at night time. If you ever come to Montreal you have to do that. Its amazing.
Sandra is seventeen years old and just six months before her mother walked out on Sandra and her father. We don't find out why she left until the end of the book. Sandra is left to finish school and graduate without anyone there to see it. She doesn't go to her prom or her graduation ceremony because she knows that her parents won't be there.
Her father is an alcoholic and unemployed and since his wife left he has been filling his time with drinking. This is all taking a toll on Sandra because not only is he drinking but he never acknowledges her as his daughter. Sandra thinks that her father cold are less that his wife/her mother is gone. She later finds out that he did care so much that he put ads in the local paper looking for her.
Sandra tries to get on with her life and move on without her mother being there. Its once Sandra sleeps with Danny, the next door neighbor that Sandra begins to realize that she misses her mother and wants to find her if she can.
Yurek, her fathers Polish friend, keeps drilling into Sandra that she needs to be more sympathetic towards her father and that he has had a hard life. Her father immigrated to Canada during the war and that he has seen more then he should have seen in his life. Yurek offers Sandra a map marked with spots that her mother could be.
Sandra decides to use the map to find her mother. One of the spots marked on the map is a neighbor across the street from Sandra. Margie knows more then what she lets on to Sandra about. Margie gets Sandra a job at the hotel she works at. While she is there she uncovers things and wonders what they mean such as room 701 and a restaurant in the hotel that staff aren't allowed into?
Sandra is called into see the boss and is told she is being fired. Sandra doesn't really care and sets off to make it hard for them to find her uniform. Throwing it in a bin Sandra realizes she isn't the only one to have done the same thing. She finds a picture, one that she recognizes and realizes that her mother had worked in that same hotel.
Will Sandra be able to find her mother? Is her mother closer then Sandra thinks? How much does Margie know and will she tell Sandra?
If you are interested in the book you can buy it here:
Amazon Canada
copyright 2010, Cindy (Cindy's Love Of Books)
If you are reading this on a blog or website other than Cindy's Love Of Books or via a feedreader, this content has been stolen and used without permission.