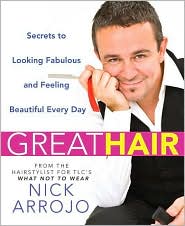 PUB DATE: September 2008
Another one of my favorite shows is What Not to Wear on TLC Friday nights. I love watching it and Nick is one of my favorite parts of the show. When I heard about this book I had to go out and buy it. If I ever had the chance to go for a complete hair make over Nick would be my dream stylists. He knows within 30 seconds of seeing someone what will look good on them.
The book is filled with all kinds of photos of real people and not models and tips that will work for you. Such as identifying your own hair type and how cut, color and style affect it, understanding the products and tools and how to use them, styling your own hair at home and how to choose a color that will enhance your beauty and not over power it.
Nick has been in the hair industry for over 25 years. He is recognized world wide for his style and approach. He has a salon in New York City. You can check out his website at http://www.arrojostudio.com
copyright 2010, Cindy (Cindy's Love Of Books)
If you are reading this on a blog or website other than Cindy's Love Of Books or via a feedreader, this content has been stolen and used without permission.