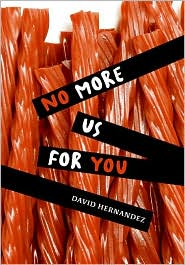 GENRE: YA
PUB DATE: January 27th 2009
This is David's second novel. He is the author of Suckerpunch.
Isabel is seventeen years old. She still is dealing with her boyfriend's tragic accident that claimed his life a year ago.
Carlos is also seventeen. He has an obsession with red licorice. Hence the cover of the book. He works at an art museum as a security guard to make some money.
The chapters are told by alternating points of view of Carlos and Isabel. I was a little confused by this at first because the two have no connection to each other until they both meet Vanessa. She is a transfer student who works at the same museum as Carlos.
Isabel and Carlos meet at school when Carlos friend Snake accidently bumps into Vanessa. They agree to go to the school dance that night. While Carlos and Snake wait outside the school for the girls to come. They begin to drink. Snake is starting to get a little drunk by the time they show up. Vanessa and Snake hit it off and they ask to be alone. Carlos and Isabel go into the dance to wait for them. When they realize that they haven't shown up yet they go outside to look for them. They realize that Snake and Vanessa left. What happens? Where did they go?
I enjoyed the book and I thank HarperCollins teen for sending me this ARC to read. The book is about love, friendship and teens dealing with tough things that life throws at you. I could relate to Isabel because when I was in junior high I had a friend (crush) who was killed by a drunk driver. Even though this happened over 20 years ago you still remember the person.
copyright 2010, Cindy (Cindy's Love Of Books)
If you are reading this on a blog or website other than Cindy's Love Of Books or via a feedreader, this content has been stolen and used without permission.