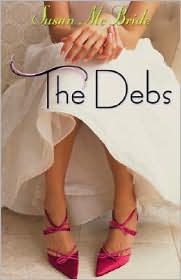 PUB DATE: August 2008
AGE RANGE: YA
I have to thank Susan for sending me this copy to read and review. This was such a great read. It was fun and quick. I really enjoyed it. I really love the cover picture.
The Debs is the first book in the series. I love discovering a new series. The book is about a group of teenage girls, Laura. Mac, Ginger and Jo Lynn. They are all vying for a spot into The Glass Slipper club. Only a selected few are invited each year. You can see the close friendship of Laura, Mac and Ginger, along with the rival between Laura and Jo Lynn. There is complicated romances, break ups, betrayal and competition.
Laura is your average teen age girl who is struggling with her weight and just wants to fit in and be accepted. (Look most girls out there.)I loved Laura cause she is a size 14 figure and she attracks the hot boy. Proving that size doesn't matter to some.
Mac is the practical one and doesn't understand why her friends worry about what others think and why they drop everything and everyone for a boy. She buries her nose in books and likes the nerdy guys next door. She is dealing with the lose of her mother who recently died and her fathers remarriage. Her mother's dream was for make to become a Rosebud and now her stepmother is obsessing about it. She use to be in beauty pagents.
Ginger is the activist and environmentalist of the group. She wants to wear her grandmothers vintage dress that she wore at her deb. She isn't the regular deb material but she thinks that if she becomes a deb then she can use her power to fight the causes and that people will back her up and support her. She has fallen for a college guy who is painting her mothers dining room. He puts her deg eligibilty in danger. Will he succeed?
Jo Lynn is the villian of the story. I loved to hate her. She is the type of girl who will stop at nothing to get what she wants and no one will be above her taking the spot light away from her. She will do anything to stay at the top.
Will each of the girls get an invite? Will Jo Lynn succeed in getting rid of what she thinks is debu-trash?
The next book in the series is called "The Debs: Love, Lies and Texas Dips" this is set to be released in June 2009 and "Gloves Off" is for Spring of 2010. I really look forward to reading the next book in the series.
copyright 2010, Cindy (Cindy's Love Of Books)
If you are reading this on a blog or website other than Cindy's Love Of Books or via a feedreader, this content has been stolen and used without permission.