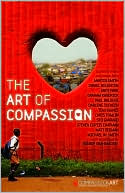 PUB DATE: January 2009
GENRE: Christian Living
CompassionArt is a charity based our of Littlehampton, England. Twelve of the top song writers in Gospel and Christian music have come together to write and share their original songs and stories of compassion to raise money for this cause. Each contributor is donating the royalties to CompassionArt. Half of the money will to the the song writers charity of choice and the other half will go towards a charitable project that the group agrees upon.
To date they have sold over 42 million albums. recorded 82 #1 songs, won 10 Grammies, 100 Dove Awards and 2 American Music Awards.
Art of Compassion has contributions from two of my favorite Christian signers, Michael W Smith and Steven Curtis Chapman. Also included in this is Martin Smith, Chris Tomlin, Matt Redman, Stu Garrad, Tim Hughes, Darlene Zschech, Paul Baloche, Graham Kendrick, Andy Park and Israel Houghton.
Inside the book is 16 pages of photographs of all the artists. Also there is a CD available to purchase. Each contributor wrote a chapter in the book. They reflect on the poverty people suffer around the world and how we can make a difference.
Steven Curtis Chapman talks about his family's call to adopt three children and their on going ministry to help fund other families adoptions. His daughter Emily was the force behind the family adopting the three children. They run a non profit organization called Shaohannah's Hope. To date they have helped about 1,600 families with the cost of adopting either domestically or internationally.
Michael W Smith talks about the struggles in the beginning of the project with working with writers they have never worked with before and how it all came together and that things worked out. He speaks about a woman named Glenda who gave away all her possessions and moved to Nashville with nothing to her name but her two sons. She formed a Family Affair Ministry. When she moved to Nashville her sons they lived in a mission for 21 days and then found housing in one of the largest public housing units in Nashville. When she looked around she saw how much was needed so she began to teach young mothers how to budget, plan the meals and shop for food. She mentors them in parenting and helps with the kids schoolwork. Even her sons take part with the cause they do one on one reading with the children
The art of compassion doesn't have to be a big thing it can be the little things that matter the most. I was touched reading all the twelve stories. I know the little things I do make a difference.
Thank You to Valerie at Hachette for providing me this great book to read. She has also generously given my a copy to give away to one of my readers. If you would like to win a copy please leave a comment in this post and let me know how compassionate you are.
Contest will run until Febuary 14th.
Please note that this is only open to residents of Canada and the US. Your book will be mailed to you from Hachette. So I have to say that no PO Boxes can be used.
Please leave an email address so that I can contact you should you be the winner.
copyright 2010, Cindy (Cindy's Love Of Books)
If you are reading this on a blog or website other than Cindy's Love Of Books or via a feedreader, this content has been stolen and used without permission.