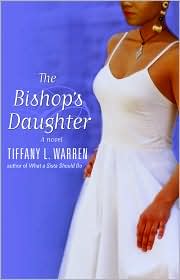 TITLE: The Bishop's Daughter
AUTHOR: Tiffany L. Warren
PUB DATE: January 9, 2009
Thanks to Samantha at Hachette for sending me this ARC to read and review for the First Wild Cards Tour that will be taking place on January 12th 2009.
This is the third book by author Tiffany L. Warren. I have yet to read her two other books, from reading this one I will definitely be looking for them. I really enjoyed the book.
It opens up with a guy named Darrin. He is a young and inspiring writer, a great cook and a playboy. Darrin has is own blog in the book called "Diary of a Mad Black Blogger". Its a Sunday morning and he is awakened by voices. The female is that of his "unofficial" girlfriend, Shayne, and the other is a man that he doesn't recognize. He gets out of bed to check it out. When he sees Shayne watching a church service on tv and the male voice is that of Bishop Kumal Prentiss. While watching the service Darrin gets an idea to do an expose on the Bishop. Knowing that this man has got to be up to something.
Darrin convinces his father to foot the bill for him so that he can go to Atlanta to uncover the truth. Darrin's father is rich he has his own business called "BainBridge Transport". His father makes him a deal that if he comes up with nothing that Darrin will get a real job and stop mooching of him. Darrin agrees.
With the funding and a paid apartment in Atlanta, Darrin begins the adventure. He joins "Freedom of Life" one of Bishop's Church's. On his first visit to the church, Darrin sees a pretty girl that catches his eye. He finds out that she is the Bishop's daughter Emoni. He begins to get to know her more when he joins the Single Ministry and Bible study with the church. He begins to fall in love with her. He doesn't pursue it because Darcus, a member of the church tells him that Oscar and Emoni are together. Oscar is in love with Emoni. Emoni doesn't feel the same way. She has her eye on Darrin. Emoni gets some tips from her younger sister Sasha in ways to get Darrin to notice her.
Darrin lands a spot with the church newsletter writing about the social events the Bishop attends. On a trip to Savannah with Emoni, Oscar and the Bishop, Darrin gets the dirt on the Bishop. What is this dirt you are asking? You will have to read the book.
Once back from Savannah Emoni and Darrin get together. Their are together a short time when Darrin invites Emoni over for dinner. Needing something at the store Darrin leaves Emoni alone in the apartment. Thinking of the conversation Emoni had with her mother about "No one just reveals himself" she sees a brochure for a cooking school in Atlanta, she goes to pick it up and accidentally bumps the desk where Darrin's computer comes to life. She hits the back button and his blog appears with all the info about the Bishop and Emoni. Seeing this Emoni runs out of Darrin's apartment before he returns. When he returns he realizes what has happened.
To complicate matters even more Shayne shows up in Atlanta hoping to reconnect with Darrin. Darrin finally tells her that there is nothing between them. Before he sends her packing Emoni shows up and she thinks Shayne is the girlfriend from Cleveland. She realizes that Darrin has been lying to her so she leaves. Darrin sends Shayne packing. With the realization of Darrin lying to her Emoni decides to give Oscar a chance. After awhile Oscar is always around and she is unhappy. Her mother picks up on this and Emoni realizes that she is in love with Darrin and lets Oscar know they are over.
While Darrin come clean to the Bishop and Emoni about the real reason he came to Atlanta? Will he expose the Bishop's secrets? Will things work out for Emoni and Darrin? If these questions are burning your mind then I suggest you go and pick up the book to read and find out.
copyright 2010, Cindy (Cindy's Love Of Books)
If you are reading this on a blog or website other than Cindy's Love Of Books or via a feedreader, this content has been stolen and used without permission.