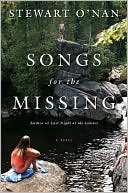 TITLE: Songs of the Missing
AUTHOR: Stewart O'Nan
PUB DATE: November 2008
ISBN: 978-0-670-02032-4
PUB: Viking
This is Stewart's 12 fiction book. This is my first time reading Stewart O'Nan's work. I throughly enjoyed the book and I am looking forward to reading his other books.
The books is about the Larsen family, the friends and a small town community dealing with the disappereance of the Larsen's 18 year old daughter Kim. Kim is a popular and happy go lucky kind of girl. She is a recent high school graduate who is leaving in a few weeks to go to college in the midwest. Kim disappears on her way to work one evening without a trace. There is very little to go on and nothing turns up.
The family is doing everything in their power to find Kim. Fran is doing media, handing out buttons, passing out flyers and seeks out donations to help in the search for her daughter. Ed is getting people involved in search parties. Finally with no leads or nothing to go on the media is no longer interested and the family is having to deal with their loss of Kim not returning home. The family continues to search and keep their hopes alive that they will find her.
Will their efforts pay off?
copyright 2010, Cindy (Cindy's Love Of Books)
If you are reading this on a blog or website other than Cindy's Love Of Books or via a feedreader, this content has been stolen and used without permission.