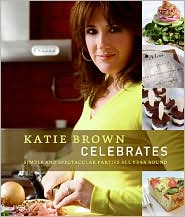 TITLE: Katie Brown Celebrates Simple & Spectacular Parties All Year Round
AUTHOR: Katie Brown
PUB DATE: Nov 2008
ISBN: 978-0-316-11818-7
I have to say Thank You to Anna from Hachette for sending me this book to read and review. I loved reading this cookbook. The pictures and the recipes are all great. The book covers twelve months of simple and elegant party ideas. She offers us the reader with ideas to have our own casual parties.
I am always looking to try new recipes for our family or even when we are entertaining friends. I want it to be simple and not be stuck in the kitchen cooking. This book offers it all.
This book comes just in time for the holiday season. I already have my eye on making wild rice stuffing with our turkey, and perhaps a chocolate spice cake for dessert. My son spotted some decorations he wants us to make. Happy Holidays!
I have already made the Deep Dish Country Quiche that was in the book. I ended up cutting the recipe in half as the original recipe make 2 quiches. It was really good. We all enjoyed it one night for supper when I had nothing else to make.
Don't forget the contest for a chance to win a copy of this book is HERE ends at 7 PM on November 17th 2008.
copyright 2010, Cindy (Cindy's Love Of Books)
If you are reading this on a blog or website other than Cindy's Love Of Books or via a feedreader, this content has been stolen and used without permission.