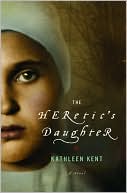 TITLE: Heretics Daughter
AUTHOR: Kathleen Kent
PUB DATE: September 2008
Thank you to Miriam for sending me this book to read. I heard alot of great things about this book so I was really anxious to read it. I loved the book. I can't wait to listen to the interview today with both of them.
This is Kathleen's debut novel. She is the 10th generation descendent of Martha Carrier. She was hung in 1692 in the Salem Witch Trials.
The Heretics Daughter is about one family's lives during the Salem Witch Trials. Its is told through the eyes of a 10 year old girl named Sarah Carrier. She is Martha's daughter and one of the accused.
Its several months before the Salem Witch Trials that the story begins. The Carrier family has just moved to Massachusettes from Billerica. They are hoping to escape the small pox epidemic. They don't realize that their son, Andrew is already infected. As Andrew becomes ill, Sarah and her younger sister, Hannah are sent to live with family. The family is hoping that the girls will be spared from the disease.
Sarah has never been alone before and she bonds with her cousin Margaret. They become inseperable. Sarah realizes that there is a difference between the families. Sarah's is cold and distant and Margarets is open and warm. While Sarah is there she begins to wonder about her cousin wondering if her cousin is a witch. Is she? So many things lead you to believe she is.
When Sarah and Hannah return home they learn that Andrew has died as well as other family members. Sarah and her mother are not getting along. When Martha throws out her sons girlfriend for lies the girl starts to talk and it spreads. The community is suspicious of the Carrier family. Shortly after that Martha is arrested for witch craft. She refuses to confess saying that its all lies. She was hung in 1692. She was one of 19 to die that day.
copyright 2010, Cindy (Cindy's Love Of Books)
If you are reading this on a blog or website other than Cindy's Love Of Books or via a feedreader, this content has been stolen and used without permission.