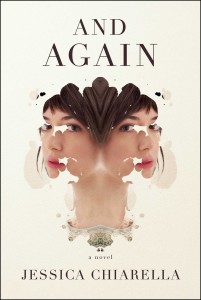 And Again
by Jessica Chiarella
Format:
ARC
Published by
Simon and Schuster on January 12th 2016
Pages:
320
Buy on Amazon
Goodreads
Genres:
Dystopian, Family Life, Fantasy, Fiction, General, Literary
In the spirit of Station Eleven and The Age of Miracles, this exciting literary debut novel imagines the consequences when four ordinary individuals are granted a chance to continue their lives in genetically perfect versions of their former bodies.
Would you live your life differently if you were given a second chance? Hannah, David, Connie, and Linda—four terminally ill patients—have been selected for the SUBlife pilot program, which will grant them brand-new, genetically perfect bodies that are exact copies of their former selves—without a single imperfection. Blemishes, scars, freckles, and wrinkles have all disappeared, their fingerprints are different, their vision is impeccable, and most importantly, their illnesses have been cured.
But the fresh start they've been given is anything but perfect. Without their old bodies, their new physical identities have been lost. Hannah, an artistic prodigy, has to relearn how to hold a brush; David, a Congressman, grapples with his old habits; Connie, an actress whose stunning looks are restored after a protracted illness, tries to navigate an industry obsessed with physical beauty; and Linda, who spent eight years paralyzed after a car accident, now struggles to reconnect with a family that seems to have built a new life without her. As each tries to re-enter their previous lives and relationships they are faced with the question: how much of your identity rests not just in your mind, but in your heart, your body?
I received this book for free from publisher/pr firm in exchange for an honest review. This does not affect my opinion of the book or the content of my review.
Would you live your life differently if you were given a second chance?
That is what sold me on the book when I got pitched it to read.
I had no idea what was going to happen and after a bit of a slow start I have to say that I ended up really enjoying the story.
What a great way to ring in 2016 then with a debut novel.
As my readers you know I don't dip myself into a lot of sci fi and that is mainly because its not usually my cup of tea but I have to admit that after reading this I am a little curious about the whole genre. Although, And Again isn't really in the sci fi section is more of a fiction book that has the sci fi element to it with the cloning of real life people. The story line is modern day and it wasn't really a far fetched story line like most sci fi is.
I really enjoyed the four main characters: Linda, Hannah, Connie and David. All four people come from four different walks of life all with a tragic life threatening aliments that get them into this program. The book begins as the four patients are waking up from the transformations. As the story progesses we discover secrets, lies and betrayals. They are all going through changes and learning to adjust to their new lives. Will all four be able to adjust to their new bodies or will the revert to their past ways and hinder their progress?
The chapters are all told in alternating points of view from the four characters and its not confusing at all to follow it along and Jessica keeps each chapter quick and simple and she makes it work.
Another thing I loved about the book was that it was all wrapped up at the end and nothing was left hanging.
So my question for you is, Would you live your life differently if you were given a second chance?