Middle Grade: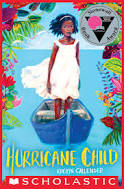 Caroline Murphy is a Hurricane Child.
Being born during a hurricane is unlucky, and 12-year-old Caroline has had her share of bad luck lately. She"s hated and bullied by everyone in her small school on St. Thomas of the US Virgin Islands, a spirit only she can see won"t stop following her, and — worst of all — Caroline"s mother left home one day and never came back.
But when a new student named Kalinda arrives, Caroline"s luck begins to turn around. Kalinda, a solemn girl from Barbados with a special smile for everyone, becomes Caroline"s first and only friend — and the person for whom Caroline has begun to develop a crush.
Now, Caroline must find the strength to confront her feelings for Kalinda, brave the spirit stalking her through the islands, and face the reason her mother abandoned her. Together, Caroline and Kalinda must set out in a hurricane to find Caroline"s missing mother — before Caroline loses her forever.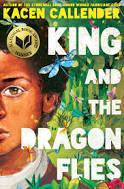 Twelve-year-old Kingston James is sure his brother Khalid has turned into a dragonfly. When Khalid unexpectedly passed away, he shed what was his first skin for another to live down by the bayou in their small Louisiana town. Khalid still visits in dreams, and King must keep these secrets to himself as he watches grief transform his family.
It would be easier if King could talk with his best friend, Sandy Sanders. But just days before he died, Khalid told King to end their friendship, after overhearing a secret about Sandy-that he thinks he might be gay. "You don"t want anyone to think you"re gay too, do you?"
But when Sandy goes missing, sparking a town-wide search, and King finds his former best friend hiding in a tent in his backyard, he agrees to help Sandy escape from his abusive father, and the two begin an adventure as they build their own private paradise down by the bayou and among the dragonflies. As King"s friendship with Sandy is reignited, he"s forced to confront questions about himself and the reality of his brother"s death.
Young Adult: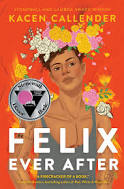 From Stonewall and Lambda Award–winning author Kacen Callender comes a revelatory YA novel about a transgender teen grappling with identity and self-discovery while falling in love for the first time.
Felix Love has never been in love—and, yes, he's painfully aware of the irony. He desperately wants to know what it's like and why it seems so easy for everyone but him to find someone. What's worse is that, even though he is proud of his identity, Felix also secretly fears that he's one marginalization too many—Black, queer, and transgender—to ever get his own happily-ever-after.
When an anonymous student begins sending him transphobic messages—after publicly posting Felix's deadname alongside images of him before he transitioned—Felix comes up with a plan for revenge. What he didn't count on: his catfish scenario landing him in a quasi–love triangle….
But as he navigates his complicated feelings, Felix begins a journey of questioning and self-discovery that helps redefine his most important relationship: how he feels about himself.
Felix Ever After is an honest and layered story about identity, falling in love, and recognizing the love you deserve.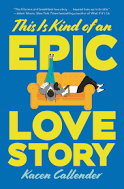 A fresh, charming rom-com perfect for fans of Simon vs. the Homo Sapiens Agenda and Boy Meets Boy about Nathan Bird, who has sworn off happy endings but is sorely tested when his former best friend, Ollie, moves back to town.
Nathan Bird doesn't believe in happy endings. Although he's the ultimate film buff and an aspiring screenwriter, Nate's seen the demise of too many relationships to believe that happy endings exist in real life.
Playing it safe to avoid a broken heart has been his MO ever since his father died and left his mom to unravel—but this strategy is not without fault. His best-friend-turned-girlfriend-turned-best-friend-again, Florence, is set on making sure Nate finds someone else. And in a twist that is rom-com-worthy, someone does come along: Oliver James Hernández, his childhood best friend.
After a painful mix-up when they were little, Nate finally has the chance to tell Ollie the truth about his feelings. But can Nate find the courage to pursue his own happily ever after?
Adult: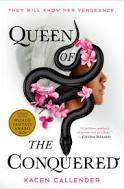 An ambitious and unflinching tale of colonialism, conquest, and revenge, Queen of the Conquered begins a powerful fantasy series set in a Caribbean-inspired world. 
*Named one of TIME's Top 100 Fantasy Books Of All Time
* World Fantasy Award for Best Novel, winner
On the islands of Hans Lollik, Sigourney Rose was the only survivor when her family was massacred by the colonizers. When the childless king of the islands declares he will choose his successor from amongst eligible noble families, Sigourney is ready to exact her revenge.
But someone is killing off the ruling families to clear a path to the throne. And as the bodies pile up and all eyes regard her with suspicion, Sigourney must find allies among her prey and the murderer among her peers… lest she become the next victim.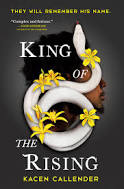 King of the Rising is the searing conclusion to an unflinching and powerful Caribbean-inspired fantasy series about colonialism, resilience, and defiance.
A revolution has swept through the islands of Hans Lollik and former slave Loren Jannik has been chosen to lead the survivors in a bid to free the islands forever.
But the rebels are running out of food, weapons, and options. And as the Fjern inch closer to reclaiming Hans Lollik with every battle, Loren is faced with a choice that could shift the course of the revolution in their favor — or doom it to failure.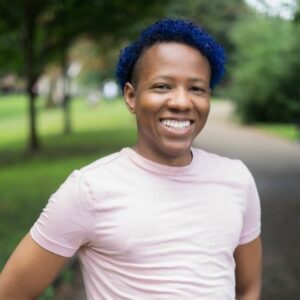 About the Author:
Born and raised in St. Thomas of the US Virgin Islands, Kacen Callender is a bestselling and award-winning author of the middle-grade novels Hurricane Child and King and the Dragonflies, the young-adult novels This Is Kind of an Epic Love Story and Felix Ever After, and the adult novel Queen of the Conquered and its forthcoming sequel King of the Rising.
​They enjoy playing RPG video games in their free time.
​Kacen currently resides in Philadelphia, PA.