Can't-Wait Wednesday
is a weekly meme hosted here, at
Wishful Endings
, to spotlight and discuss the books we're excited about that we have yet to read. Generally they're books that have yet to be released. It's based on Waiting on Wednesday, hosted by the fabulous Jill at
Breaking the Spine
.
If you'd like to join in, you can use the image above, the one below, or make your own. Please link back to Wishful Endings in your post and also add it to the linky widget posted each week so we all can come see what you're excited about. If you're continuing with the Waiting on Wednesday feature, feel free to link those up as well!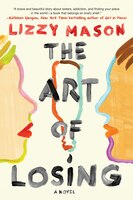 A debut novel called The Art of Losing by Lizzy Mason is coming out February 2019.
The Art of Losing is a compelling debut that explores issues of addiction, sisterhood, and loss.
On one terrible night, 17-year-old Harley Langston's life changes forever. At a party she discovers her younger sister, Audrey, hooking up with her boyfriend, Mike—and she abandons them both in a rage. When Mike drunkenly attempts to drive Audrey home, he crashes and Audrey ends up in a coma. Now Harley is left with guilt, grief, pain and the undeniable truth that her ex-boyfriend (who is relatively unscathed) has a drinking problem. So it's a surprise that she finds herself reconnecting with Raf, a neighbor and childhood friend who's recently out of rehab and still wrestling with his own demons. At first Harley doesn't want to get too close to him. But as Audrey awakens and slowly recovers, Raf starts to show Harley a path forward that she never would have believed possible—one guided by honesty, forgiveness, and redemption.