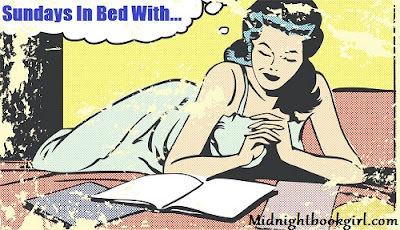 Welcome to our Sundays In Bed With… Meme! The meme that dares to ask what book has been in your bed this morning? Come share what book you've spent time curled up reading in bed, or which book you wish you had time to read today!
This is being hosted by two of the sweetest people I have to privilege of knowing in real life Kate and Kim. Sadly we don't talk like we use to because you know real life happens but there is not a day that goes by that I don't think of them both. If you click on the banner it will take you right to the Midnight Book Girl blog.
Good Sunday Morning everyone. I hope you all had a great week and weekend too. Its a long weekend here in Canada because its our Thanksgiving. It was a busy hockey weekend as well with two practices and we found out since last week that Michael has made the Bantam A team and he got his favorite number 4 this year. I am a co-manager so it will be different this year stepping back.
I hope you are curled up in bed reading this morning. Sadly I am not because I needed to be up early to hit the grocery store for 8am to do groceries for the week plus the last few things for our turkey dinner on Monday.
Alright now to get into the books I read this past week, which sadly isn't much for some reason:
This week I am reading:
What do you have planned for this week?