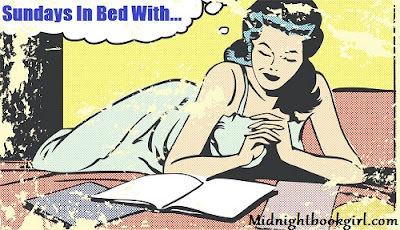 Welcome to our Sundays In Bed With… Meme! The meme that dares to ask what book has been in your bed this morning? Come share what book you've spent time curled up reading in bed, or which book you wish you had time to read today!
This is being hosted by two of the sweetest people I have to privilege of knowing in real life Kate and Kim. Sadly we don't talk like we use to because you know real life happens but there is not a day that goes by that I don't think of them both. If you click on the banner it will take you right to the Midnight Book Girl blog.
I am late in sharing this post and for some reason it was scheduled to post and never actually post and I am sure that was my setting it to draft instead because I knew I had to add more books to this list.
This past week was Bout of Books 20 and I actually decided to take part because I really wanted to tackle some review books and some of my own personal books. I admit I made some huge goals with what I wanted to get through and how much I wanted to read. Sadly a few real life things took place and reading was pushed to the side.
The next Bout of Books 21 read-a-thon is happening   1/8/2018 — 1/14/2018 which is the perfect time for me with my son back in school after Christmas break and we will only have hockey in the evenings/weekends so I am excited for that one.
So this is what I read this past week:
This was the first book I finished up from last week and I really enjoyed it. I am on a book tour for this so my review will be up soon.
The read these:
Donna is a review book that I wanted to read and now I am dying to read the next ones. I realized after reading these few V.C Andrews books that I missed reading them so I am hoping to  read more from now on.
Seven Days of us was another review book that I read and really enjoyed this one as well. I love discovering new books and new authors. Review will be soon.
This is another review book that I really enjoyed. It takes place in NYC and it was a quick and fast read.
This has been sitting on my TBR for a few years now and figured it would be a quick and fun read and it was really good. I loved reading the various retellings of Little Red Riding Hood.
This was actually a book I just bought and read it fairly quickly. I will be doing something with the author in December.
Finally the last book I read this week was this one. I believe this is my first time reading anything by Suzanne Young and I have to say I really enjoyed this. I might have to check my TBR because I am sure I have a few of her books on my shelf.
On Monday I plan on starting:
I am sure I will be done this so the next book I will pick up will be:
This is a review book that I have been dying to read.
How did your reading go this week: