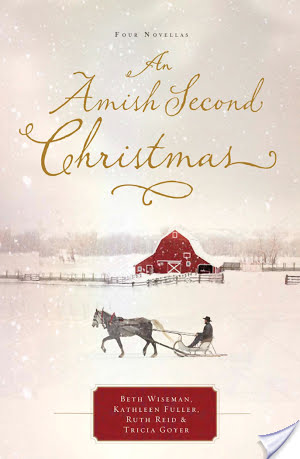 An Amish Second Christmas
by Beth WisemanKathleen FullerRuth ReidTricia Goyer
Format:
Paperback
Published by
Thomas Nelson Inc on October 14th 2014
Pages:
297
Goodreads
Genres:
Amish & Mennonite, Christian, Contemporary, Fiction, General, Romance
Celebrate Second Christmas, a treasured, lighthearted time of community, with four Amish romances.  "When Christmas Comes Again" by Beth Wiseman Katherine knows the first Christmas without Elias will be hard for her and the children. But when a mysterious Englischer appears with photographs of her late husband, Katherine  begins to wonder what other blessings Christmas could have in store.  "Her Christmas Pen Pal" by Ruth Reid Joy was expecting a wedding proposal from Henry; what she got instead was news of another woman. But when her heartfelt letter to a cousin ends up in the hands of a young cabinetmaker, an unexpected correspondence between two strangers gets interesting fast. "A Gift for Anne Marie" by Kathleen Fuller Anne Marie and Nathaniel have been best friends since they were kids. Now things are evolving . . . in ways everyone else predicted long ago. But when her mother suddenly decides to remarry in another state, Anne Marie's new chapter with Nathaniel looks doomed to end before it begins.  "The Christmas Aprons" by Tricia Goyer Vanilla crumb pie has been Esther's mem's calling card for decades. But when Esther finally gets her hands on the secret recipe, she discovers that vanilla crumb pie is more than just dessert . . . it's bachelor bait.
An Amish Second Christmas is a collection of three Amish stories and they are all connected to the Amish celebrating a second Christmas. The first day of Christmas is family and then the second day is for family and friends.
I just realized that the cover I am showing is for the edition that has four authors and the one I have is just with Beth Wiseman, Kathleen Fuller and Tricia Goyer. Sorry about that.
The three stories are quick and easy reads and its a perfect way to break up the day.
The first story is When Christmas Comes by Beth Wiseman. Is about a woman named Katherine and she is spending her first Christmas without her husband, Elias and she knows its going to be hard for her and the children. She has been noticing a stranger almost following her around and she confronts him but quickly discovers who this mysterious Englischer is and is shocked to find out who he really is and the reason he came to town will shock her.
The second story is A Gift For Anna Marie by Kathleen Fuller.  When Anna Marie's mother announces that she is going to be remarrying during the Christmas holidays and moving to another state Anna Marie's world is shocked and she realizes that things are going to change for her family, her and her friend Nathaniel. Nathaniel and Anna Marie have been best friends since they were kids and its always been that way until some one enters the picture forcing both Anna Marie and Nathaniel to finally come clean about their true feelings for each other. But will they both be honest with each other before its too late?
Finally the last story is The Christmas Aprons by Tricia Goyer. I think this was the cutest story of the book and I loved how a Vanilla Crumb Pie brought the two unlikiest people together. Ester's mom has sent her the family secret recipe for Vanilla Crumb pie to bake for the fireman's auction but what Ester doesn't know is that its actually a win a pie and date with the baker. Ester's not happy at first but then goes with the flow and the outcome is beautiful.
If you love reading Christmas short stories then I have to recommend this if you can find it. Its a beautiful and quick read. I managed to read it pretty much in one sitting because I had a hard time putting the book down.