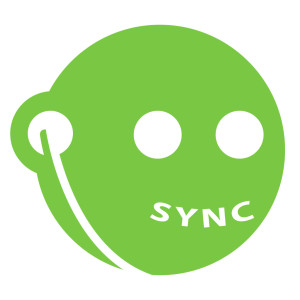 SYNC is a free summer audiobook (2 titles avilable weekly) program available for young adults and really anyone who enjoys audiobooks. It runs from May 5th and goes until August 17, 2016. (15 weeks)
SYNC is a free summer audiobook program for teens 13+. Running May 5th – August 17th 2016, SYNC will give away two complete audiobook downloads a week (30 titles) – pairs of high interest titles, based on weekly themes.  In 2014, 26 titles were given away over 13 weeks. In 2015, 28 titles were given away over 14 weeks.

SYNC is dedicated to introducing the listening experience to the teen audience and demonstrates that Required Reading can be completed by listening.
You can go to this link http://download.audiobooksync.com/ to find out more about the audiobooks and download them.
This week's picks are: (May 12th to 19th) [You should note that you are only able to download them within this time period.] [The day after two new titles will be available as of 7am EST.]
The Sin Eater's Daughter by Melinda Salisbury.

A startling, seductive, deliciously dark debut that will shatter your definition of YA fantasy.

Sixteen-year-old Twylla lives in the castle. But although she's engaged to the prince, no one speaks to her. No one even looks at her. Because Twylla isn't a member of the court. She's the executioner.

As the goddess-embodied, Twylla kills with a single touch. So each week, she's taken to the prison and forced to lay her hands on those accused of treason. No one will ever love her. Who could care for a girl with murder in her veins? Even the prince, whose royal blood supposedly makes him immune to her touch, avoids her.

But then a new guard arrives, a boy whose playful smile belies his deadly swordsmanship. And unlike the others, he's able to look past Twylla's executioner robes and see the girl, not the goddess. Yet a treasonous romance is the least of Twylla's problems.

The queen has a plan to destroy her enemies—a plan that requires an unthinkable sacrifice. Will Twylla do what it takes to protect her kingdom? Or will she abandon her duty in favor of a doomed love?

Los Angeles lawyer and law professor, Jim Gash, tells the amazing true story of how, after a series of God-orchestrated events, he finds himself in the heart of Africa defending a courageous Ugandan boy languishing in prison and wrongfully accused of two separate murders.

Ultimately, their unlikely friendship and unrelenting persistence reforms Uganda's criminal justice system, leaving a lasting impact on hundreds of thousands of lives and unearthing a friendship that supersedes circumstance, culture and the walls we often hide behind.
I am currently listening to The Sin Eater's Daughter by Melinda Salisbury and read by Amy Shiels. This has always been a book I have been wanting to read but just never got around to it. So I am excited to dig into this one.
What will you be listening to this week?