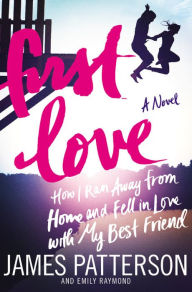 First Love
by James PattersonEmily Raymond
Format:
Paperback
Published by
Little, Brown Books for Young Readers on December 15th 2015
Pages:
336
Goodreads
Genres:
Dating & Sex, Death & Dying, Friendship, Love & Romance, Runaways, Social Issues, Young Adult
The New York Times bestseller First Love is now available in paperback, and illustrated with never-before-seen snapshots evoking the romantic trip of a lifetime.
Axi Moore is a "good girl". When Axi invites her best friend, Robinson--with whom she's secretly in love--to come with her on a cross-country road trip, she's finally breaking all the rules. But they soon find that, however far they run, they can't escape the heartbreaking troubles that brought them together in the first place.
In this madcap adventure full of love and loss, Axi realizes that her romance with Robinson might not have the happy ending she was hoping for....
As I was beginning to write this review I quickly realized that this book was released before with  different covers. So just in case you think this is new you might want to check to see if you already read it.
I am a huge fan of James Patterson's books and I admit its been awhile since I read them and I am a bit behind so I need to get caught up. First Love is not like his typical crime thrillers which was a nice little break. First Love is a sweet story that makes you think of your first love.
Axi is your typical sixteen year old girl. She is a good student and her life is focused. She is that girl who can do no wrong she has never gotten into trouble and she avoids trouble at all cost. She is probably everyone's dream child who can do no wrong and she does no wrong.
Out of the blue Axi decides she has had enough and wants something different and she wants to experience life so she makes a plan to run away. She is fed up with her life in the small town. She hasn't had it easy. Her younger sister died of cancer and her mother left the family and never returned and her father is an alcoholic who is basically drinking his problems away and Axi realizes this is probably why her mother left. She enlists her best friend Robinson to go with her.
Robinson is the complete opposite of Axi in which he breaks every rule if possible and will charm his way to get what he wants and its worked for him.
With cash in her pocket and a schedule of places to go and see,  Axi and Robinson head out. Axi thinks they will hope the bus to travel but Robinson has other plans if they are going to do this cross country trip they steal motor cycles, cars, trucks etc and almost never getting caught. Whenever they get in a bind Robinson manages to use his charm to get out of trouble. This is the trip of a life time for both and they are going to places they always wanted to.
Axi and Robinson are making memories that will last a life time. Axi is determined to find a way to tell Robinson how she really feels about him but at times she wonders if he feels the same way. Is it worth risking their friendship for?
I won't give to much away but I will say that while they are on the road and enjoying their adventure they hit a bump in the road that should stop them but it doesn't its like they almost know what the outcome will be if the stop it and I think they both want to continue this trip because its more then just and adventure its a matter of life and death and making memories that will always be cherished.
I loved how the book included photographs of their trip and I think that is why I enjoyed it even more. It was a nice touch to the book.
I should warn you that you will need some tissue towards the end of the book and I didn't realize that right away because up until that point the book was light and fun and I laughed at parts and shock my head in others but I really enjoyed reading this book it was a nice light and fun read. It was the perfect read.