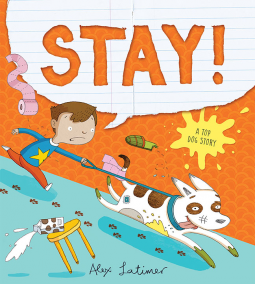 Stay! a Top Dog Story
by Alex Latimer
Format:
eARC
Published by
Peachtree Pub Limited on September 1st 2015
Pages:
32
Goodreads
Genres:
Animals, Boys & Men, Dogs, Pets, Young Adult
Looking after Ben's dog, Buster, is no walk in the park. Buster is messy, he is naughty, he is EXHAUSTING! But Ben loves him more than anything. When Ben goes away, he tells Grampa exactly how to look after Buster. But has Ben remembered the most IMPORTANT thing?
I received this book for free from publisher/pr firm in exchange for an honest review. This does not affect my opinion of the book or the content of my review.
Its been a little while since I have reviewed a picture book and I have to admit that I miss doing them.
Stay by Alex Latimer is such a cute little book that I am sure all the kids will love to read. I know I enjoyed it.
The illustrations are really nice and colorful so when you are reading the book you can't help but look around at everything on the page.
Ben has a dog named Buster and lets just say that Buster can be a handful all the time and loves to get into trouble. When Ben's parents announce they are going on vacation but Buster will not because of his actions. Buster will be going to stay at Ben's grand dads house.
Ben takes to writing notes for his grand dad and they include what Buster likes and doesn't like, favorite scratching spots, and so much more and these notes continue to arrive even while Ben is on vacation because he loves Buster so much.
While Buster is with grand dad, grand dad takes it upon himself to start trying Buster into a better dog and when Ben comes home he loves the changes in Buster and he loves that grand dad even wrote Ben notes on how to keep things up.
Has Buster changed for the good? Or is there still a little of the old Buster inside?
If your looking for a fun picture book then I highly recommend this.