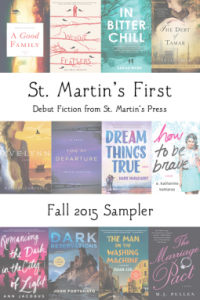 St Martin's Fall 2015 Sampler
Format:
eBook
on October 2015
I received this book for free from publisher/pr firm in exchange for an honest review. This does not affect my opinion of the book or the content of my review.
This is the third sampler that St Martin's Press has put together to my knowledge. ]
I love when publishers do this because it allows us the reader to get a snippet of what new and exciting books are coming out plus it gives you the chance to read a bit to peek your interest. For me this is a great way to discover a new author(s) that I might normally pass up when I am at the bookstore plus it allows me to perhaps dig into a book that I might not normally pick up otherwise to see if I might like it.
This was the case with this sampler. I have discovered a few hidden gems that I think I would have missed out on otherwise. There is fourteen debut books talked about in this sampler. Here is the list of books that are in the sampler:
The Man on the Washing Machine by Susan Cox
The Marriage Pact by M.J Pullen
Avelynn by Marissa Cambell
The Debt if Tamar by Nicole Dweck
A Good Family by Erik Fassnacht
Dark Reservations by John Fortunato
The Weight of Feathers by Anna-Marie McLemore
The Marriage Pact by M.J Pullen
Time of Departure by Douglas Schofield
In Bitter Chill by Sarah Ward
Here is the books that peeked my interest and have been added to my wishlist of books to get.
I was able to pick up Dream Things True at #BEA15 and I can't wait to dig into this title.

Shay Mitchell is a Canadian actress who is on Pretty Little Liars and Michaela Blaney is American and Canadian Marketing professional. This sounds like it will be a good book.
Do any of these titles interest you? What would you get to read?
I think this fall/winter will be a really good time to curl up and read. What do you think?