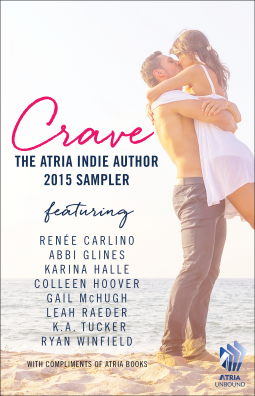 CRAVE The Atria Indie Author Sampler
Format:
eBook
on April 28th, 2015
Description
Turn up the heat with this free e-sampler featuring seven irresistibly sexy and utterly enticing selections by some of the biggest names in contemporary romance and new adult fiction. Lose yourself in these stories and spread the love by sharing with your friends.Here's a taste of:
After the Rain
by Renée Carlino
When You're Back
by Abbi Glines
Where Sea Meets Sky
by Karina Halle
Confess
by Colleen Hoover
Amber to Ashes
by Gail McHugh
Black Iris
Leah Raeder
Chasing River
by K.A. Tucker
Find out more about your favorite authors at
Facebook.com/AtriaIndieAuthors
Twitter.com/AtriaBooks
I am a huge fan of reading these samplers because its a great way to discover a new book or perhaps a book you heard about that you would like to read. I was recently on Netgally I spotted this sampler so I quickly went ahead and downloaded it. I am always on the hunt for a new book to read and these are perfect.
In this sampler there is seven samplers to read which makes this for a pretty quick read. The samplers that are:
From the USA TODAY bestselling author of Sweet Thing and Nowhere But Here comes a deeply emotional contemporary romance about the second chances waiting beyond the shattered dreams of youth.
When eighteen-year-old Avelina Belo meets a charismatic cowboy the summer before her senior year of high school, she doesn't know that accepting his invitation to dinner will lead to a whirlwind marriage three months later and an exciting new life on a Montana ranch. She also doesn't know that, in a few short years, fate will send everything crashing down around her.
A thousand miles away and fresh out of medical school, Nate Meyers is poised to become UCLA's next superstar heart surgeon. His laser focus is the key to his success, but it's also his greatest liability. When a routine surgery ends in disaster, derailing his career, he's confronted with the hard truth: there's no one waiting for him at home, no one to help him pick up the pieces.
Regrouping on his uncle's Montana ranch, Nate meets Avelina, a beautiful but mysterious young woman who keeps to herself and barely speaks a word. As he discovers the details of her devastating past, Avelina teaches him more about matters of the heart than he ever knew before. But can they trust each other enough to put everything on the line?


This is book 12 in the series. From #1 New York Times bestselling author Abbi Glines comes the next new adult novel in her beloved Rosemary Beach series, which continues the story of Mase and Reese from When I'm Gone.
She was where my home would always be. It was time I took the next step and proved to her I was all in. Forever.
A chance meeting in Rosemary Beach has turned into a fairy-tale romance as Reese prepares to move in with Mase on his family ranch in Texas. With the loving support of the Colts, and her recent discovery that she has family of her own, Reese can finally move on from the dark horrors of her past and into a bright future.
But Aida isn't going to let that happen. The beautiful blonde has been raised to think of Mase as her cousin, but it's clear to Reese that Aida doesn't love Mase like a cousin should.
And then there's Captain, the inescapable stranger who has connections in Dallas and Rosemary Beach—and who conveniently shows up wherever Reese happens to be. Hot, mysterious, and plain-speaking, Captain isn't afraid to tell Reese what he thinks about Mase—and how he feels about her.
As the competition for Mase and Reese's hearts heats up, Reese's past begins to unravel, illuminating shocking truths that will forever change the lives of the happy couple—and set the final stories of Rosemary Beach in motion.


I think this is one book I really want to read since it takes place in Vancouver, Canada and she is a Canadian author.
A new adult novel that perfectly captures the existential angst of your early twenties with raw wit, fresh insight, and true feeling from a critically adored USA TODAY bestselling author.
Joshua Miles has spent his early twenties spinning his wheels. Working dead-end jobs and living at home has left him exhausted and uninspired, with little energy to pursue his passion for graphic art. Until he meets Gemma Henare, a vivacious out-of-towner from New Zealand. What begins as a one-night stand soon becomes a turning point for Josh. He can't get Gemma out of his head, even after she has left for home, and finds himself throwing caution to the wind for the first time in his life.
It's not long before Josh is headed to New Zealand with only a backpack, some cash, and Gemma's name to go on. But when he finally tracks her down, he finds his adventure is only just beginning. Equally infatuated, Gemma leads him on a whirlwind tour across the beautiful country, opening Josh up to life, lust, love, and all the messy heartache in between. Because, when love drags you somewhere, it might never let go—even when you know you have to say goodbye.

From #1 New York Times bestselling author Colleen Hoover, a new novel about risking everything for love—and finding your heart somewhere between the truth and lies.
At age twenty-one, Auburn Reed has already lost everything important to her. In her fight to rebuild her shattered life, she has her goals in sight and there is no room for mistakes. But when she walks into a Dallas art studio in search of a job, she doesn't expect to find a deep attraction to the enigmatic artist who works there, Owen Gentry.
For once, Auburn takes a chance and puts her heart in control, only to discover that Owen is keeping a major secret from coming out. The magnitude of his past threatens to destroy everything important to Auburn, and the only way to get her life back on track is to cut Owen out of it.
To save their relationship, all Owen needs to do is confess. But in this case, the confession could be much more destructive than the actual sin.

From the New York Times bestselling author of Collide and Pulse comes a gritty new novel about a shattered young woman who unexpectedly falls for two best friends.
They were a storm I never saw coming, an unforeseen heartbreak on the edge of a dangerous cliff.
Amber Moretti's life changes in the span of minutes. An orphaned outsider, she is desperate to start fresh the moment she walks onto campus. In the time it takes to cross the university's dining hall, she meets two men who bring color, air, and light to her darkened world.
They became my addiction, each a needle to my next hit, my high.
Brock Cunningham's appeal is dizzying, a potent force Amber can't deny. A green-eyed smooth talker, he instantly attracts Amber. It doesn't take long for him to consume her every thought, her every breath.
Ryder Ashcroft, a blue-eyed, tattooed, and pierced bad boy, turns Amber off immediately—that is, until he kisses her, stealing a piece of her heart, her soul.
They were as opposite as fire and ice, yet I ached for them equally.
Never knowing she could be broken down in so many unexpectedly beautiful yet petrifying ways, Amber finds herself falling for both men.
Immoral? Maybe. I say undeniable. Uncontained.
But one devastating event changes everything, shattering each of their lives…and Amber isn't sure she can recover from it.

The next dark and sexy romantic suspense novel from the USA TODAY bestselling author ofUnteachable, which was praised for its "lush, haunting prose, deft storytelling, and scorching sensuality" (M. Pierce, bestselling author of the Night Owl trilogy), and called "one of the best forbidden romances" (Lauren Blakely, New York Times bestselling author).
"Love is not a thing that we create. It's an undoing."
It only took one moment of weakness for Laney Keating's world to fall apart. One stupid gesture for a hopeless crush. Then the rumors began. Slut, they called her. Queer. Psycho. Mentally ill, messed up, so messed up even her own mother decided she wasn't worth sticking around for.
If Laney could erase that whole year, she would. College is her chance to start with a clean slate.
She's not looking for new friends, but they find her: charming, handsome Armin, the only guy patient enough to work through her thorny defenses—and fiery, filterless Blythe, the bad girl and partner in crime who has thorns of her own.
But Laney knows nothing good ever lasts. When a ghost from her past resurfaces—the bully who broke her down completely—she decides it's time to live up to her own legend. And Armin and Blythe are going to help.
Which was the plan all along.
Because the rumors are true. Every single one. And Laney is going to show them just how true.
She's going to show them all.


Another book I am excited to read and she is a Canadian author to.
A suspense-driven New Adult romance novel from the USA TODAY bestselling author of Ten Tiny Breaths and Burying Water.
Luke Boone doesn't know exactly what his uncle Rust is involved in but he wants in on it—the cars, the money, the women. And it looks like he's finally getting his wish. When Rust hands him the managerial keys to the garage, they come with a second set—one that opens up the door to tons of cash and opportunity. Though it's not exactly legal, Luke's never been one to worry about that sort of thing. Especially when it puts him behind the wheel of a Porsche 911 and onto the radar of gorgeous socialite named Rain.
Clara Bertelli is at the top of her game—at only twenty-six years old, she's one of the most successful undercover officers in the Washington, DC, major crime unit, and she's just been handed a case that could catapult her career and expose one of the West coast's most notorious car theft rings. But, in order to do it, she'll need to go deep undercover as Rain Martines. Her target? The twenty-four-year-old nephew of a key player who appears ready to follow in his uncle's footsteps.
As Clara drifts deeper into the luxurious lifestyle of Rain, and further into the arms of her very attractive and charming target, the lines between right and wrong start to blur, making her wonder if she'll be able to leave it all behind. Or if she'll even want to.

I should let you know that all these books are available to purchase in your local bookstore.
All these books sound so good that I have added them all to my wishlist of books.
Does any of these books interest you? Have you read any of these books?
I know I will be on the look out for these books. I know Becoming Rain and Where Sea Meets Sky is definitely on my radar because I love books that are set in Canada and I love supporting Canadian authors.
These books are definitely my kind of books that I would read.
Thanks Atria for putting together this sampler of titles. I wish more publishers would do this kind of thing although that could be a bad thing for a complusive book buyer like myself.
Do you like samplers?