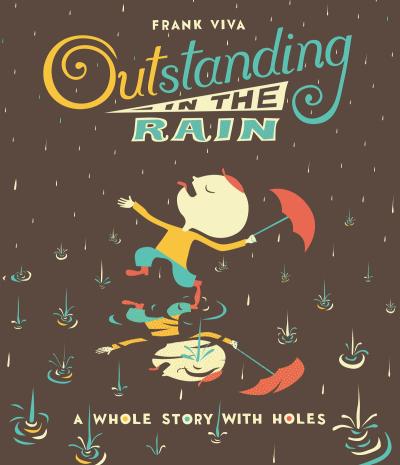 Outstanding in the Rain
by Frank Viva
Format:
Hardcover
Published by
Tundra Books on April 14th 2015
Pages:
32
Goodreads

Step right up! Step right up to the amusing amusement park! It's a whole story, and the pages have holes! Watch the holes make pictures! Turn an umbrella into a cake, and balloons into ice cream! See the holes make words. Whole words! Change an ice man into an nice man! See fork handles turn into four candles! Realize the magic with your real eyes! Frank Viva's tale of a boy spending his birthday at the amusement park will amaze readers big and small with astounding die-cuts that transform both words and pictures in delightful ways.
I received this book for free from publisher/pr firm in exchange for an honest review. This does not affect my opinion of the book or the content of my review.
I have to start off by saying I loved this picture book. The illustrations are beautiful (its hard to describe the illustrations when I look through it I think retro) and the story is fun to read. I think kids would get a kick out of reading this story or having it be read to them.
I am surprised that we have never read any of Frank Viva's previous picture books and I think that is something we will need to look for when we go to the library again this upcoming week.
Outstanding in the rain is written in a word play called oronym [A sequence of words (for example, "ice cream") that sounds the same as a different sequence of words ("I scream")] which I think the kids will enjoy as it shows them and one word can sound and mean two completely different things. As the tag line says " A WHOLE STORY WITH HOLES "
A boy and his mother are going to the amusement park, Coney Island to be exact, to spend a fun filled day together for his birthday. You as the reader get to follow along and witness the ups and downs on this day.
You can tell a lot of work when into the illustrations to make the cut out holes work with the story line and it was nice to sit down with Michael to see if he noticed the oronyms and it was fun because afterwards he wanted to find out other words that were like this so I guess depending on the age of your child they could walk away with a more appreciation of the book and for words.
I was lucky enough to win this from Tundra as I was a reading club winner. Thank you so much Tundra. I look forward to seeing you at BEA.