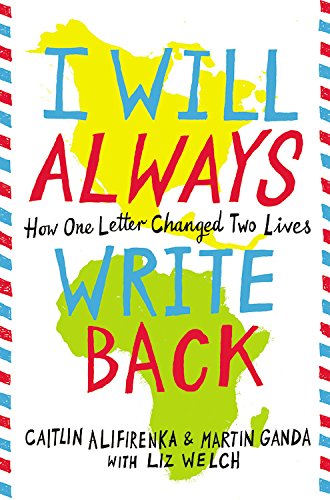 I will Always Write Back
Format:
eARC
on April 14, 2015
Pages:
400
Buy on Amazon
The true story of an all-American girl and a boy from an impoverished city in Zimbabwe and the letter that changed both of their lives forever.
It started as an assignment. Everyone in Caitlin's class wrote to an unknown student somewhere in a distant place. All the other kids picked countries like France or Germany, but when Caitlin saw Zimbabwe writer on the board, it sounded like the most exotic place she had ever heard of--so she chose it.
Martin was lucky to even receive a pen pal letter. There were only ten letters, and forty kids in his class. But he was the top student, so he got the first one.That letter was the beginning of a correspondence that spanned six years and changed two lives.
In this compelling dual memoir, Caitlin and Martin recount how they became best friends --and better people--through letters. Their story will inspire readers to look beyond their own lives and wonder about the world at large and their place in it.
I received this book for free from publisher/pr firm in exchange for an honest review. This does not affect my opinion of the book or the content of my review.
You know  when you get an email about a book and after reading the synopsis you know that you really need to get your hands on the book ASAP well that was the case with this book. Thankfully I was lucky and I was able to nab and ARC to read and review.
Growing up I have always had two pen pals. One was from England and the other was Italy. We wrote each other constantly and sadly once we were all done with high school and proceeded to university/college we ended up loosing touch but there's not a day that goes by that I don't stop and think of those two special friends.
I admit I have looked on facebook to see if they are there but sadly they aren't. Wouldn't that have been fun to reconnect with them after all those years?
The story is told in alternating points of view of Caitlin (the American Girl) and Martin (the boy from Zimbabwe. The story begins September 1997 when Caitlin has a pen pal assignment to do. The kids are allowed to choose their countries and she picks Zimbabwe because she likes the sound of it and it sounds exotic. Martin is the lucky boy who gets Caitlin's letter because he is in Group One in school.
Through the course of their letter writing it was nice to see Caitlin grow into the wonderful and caring person that she is today. She lives a privilaged life and never having to want for anything. She has a roof over her head, parents who love and support her, feed and cloth her. Through the course of writing Martin she begins to realize that not everyone has it like she does and she discovers how bad poverty is in other parts of the world.
Martin, tries to keep alot from Caitlin about his situation but gradually over the course of writing to each other she discovers how bad it is for Martin and his family and she begins to send him money. Which he truly appreciates it and lets her know how much she is saving him and his family.
Through the course of the book Martin realizes that he needs help to finish school and asks for Caitlin's help. Through the generosity Caitlin and her family sponsor Martin so that he can finish school and then come to the USA to complete his education.
I picked up the book and I literally read it in two days. I had a hard time putting it down because it was so good and there was always a struggle that they had to over come. It was nice to see this book ended happy and that Martin achieved his goal. I loved the photos that were included at the end of the book because it made it seem that much more real.
I think if you had a pen pal growing up you will love this book. Did you have a pen pal? If so from where?