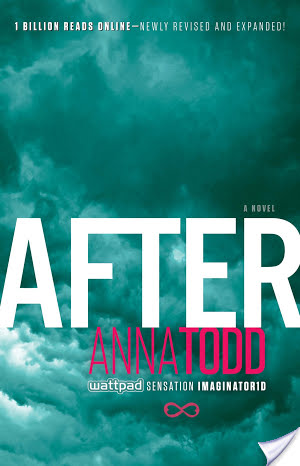 After
Series:
After Series #1
by Anna Todd
Format:
Paperback
Published by
Simon and Schuster on October 21st 2014
Pages:
592
Buy on Amazon
Goodreads

Genres:
Contemporary, Contemporary Women, Fiction, General, New Adult, Romance, Romantic Comedy, Suspense, Thrillers
Now newly revised and expanded, Anna Todd's After fanfiction racked up 1 billion reads online and captivated readers across the globe. Experience the Internet's most talked-about book for yourself!There was the time before Tessa met Hardin, and then there's everything AFTER... Life will never be the same. #HessaTessa is a good girl with a sweet, reliable boyfriend back home. She's got direction, ambition, and a mother who's intent on keeping her that way. But she's barely moved into her freshman dorm when she runs into Hardin. With his tousled brown hair, cocky British accent, tattoos, and lip ring, Hardin is cute and different from what she's used to. But he's also rude—to the point of cruelty, even. For all his attitude, Tessa should hate Hardin. And she does—until she finds herself alone with him in his room. Something about his dark mood grabs her, and when they kiss it ignites within her a passion she's never known before. He'll call her beautiful, then insist he isn't the one for her and disappear again and again. Despite the reckless way he treats her, Tessa is compelled to dig deeper and find the real Hardin beneath all his lies. He pushes her away again and again, yet every time she pushes back, he only pulls her in deeper. Tessa already has the perfect boyfriend. So why is she trying so hard to overcome her own hurt pride and Hardin's prejudice about nice girls like her? Unless…could this be love?
I just recently heard about After by Anna Todd  and her series of books and I have to admit I was curious about them so thankfully Chapters had a promotion that I took advantage off and bought three books in the series.
The books in the series are: After We Collided, After We Fell and After Ever Happy (available Feruary 24th)
I honestly had no idea what to expect when I started them and I am going to say that I was pleasantly surprised. In case you didn't know, Anna had originally wrote this on Wattpad and its fan fiction which I have to admit that this is something new to me. Its inspired by One Directions bad boy Harry Styles. I am not on One Direction fan and have no idea who is in the bad and what they do but I figured why not give it a try. I have been looking for something a little different to read and this was it. I just wonder is the Wattpad version the same thing or is it different? I will need to check that out.
I read this over a course of about a week (582 pages) and I was hooked after a few chapters and thankfully I have book two sitting here waiting to go because I am curious to what happens next in this wild and crazy relationship that Tessa and Hardin have.
The main character Tessa actually rubbed in the wrong way in the first few chapters because she comes off as this goodie two shoes, who is the perfect girl, has the perfect house, has the perfect mother, boyfriend etc…you name it that is what she is. I honestly didn't think I was going to like her but as the story progresses you realize that she is the way she is because of the way she is brought up.
Now the other main character is Hardin and I am going to admit I had a love/hate/love relationship with him. One minute he is this jerk that you just want to punch in the face and then the next you love him until he opens is mouth again and then I wanted to punch him. I really don't think I could have stayed with this ticking time bomb because he would have drove me crazy.
Their relationship is like watching a train wreck happening and that makes you want to read the book more to find out because it was always them fighting over something. I do have to admit at times it was just a little much and way Tessa stayed is beyond me.
Tessa is clearly head over heels in love and has given up her family to be with him. Is he worth it? Now is Hardin in love with her? That was going through my mind the whole time because he would be sweet and loving one minute then crazy jealous and flipping out the next. He had to control Tessa and for me I loved when she stood up to him.
Throughout the book I kept saying something is up because this can't be love for him and then slowly Tessa breaks down the walls and he starts revealing things about his past which make a bit of sense but I still was leary of him and boys was I surprised at the end of the book. I was not expecting that to happen. How will Tessa react? Could that be the straw that breaks the camels back?
Probably not since there are three other books in the series which I am dying to read now.
Have you read the book or heard about it? What did you think?