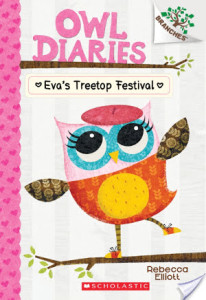 Owl Diaries #1: Eva's Treetop Festival (A Branches Book)
Series:
Owl Diaries #1
by Rebecca Elliott
Format:
Paperback
Published by
Scholastic Inc. on January 6th 2015
Pages:
80
Goodreads
Genres:
Animals, Birds, Chapter Books, Girls & Women, Readers, Young Adult
This adorable early chapter book series is perfect for young girls who love friendship stories starring animal characters! This series is part of Scholastic's early chapter book line called Branches, which is aimed at newly independent readers. With easy-to-read text, high-interest content, fast-paced plots, and illustrations on every page, these books will boost reading confidence and stamina. Branches books help readers grow! Eva Wingdale gets in over her head when she offers to organize a spring festival at school. Even with her best friend Lucy's help, there is NO way she will get everything done in time. Will Eva have to ask Sue (a.k.a. Meanie McMeanerson) for help? Or will the festival have to be cancelled? This book is written as Eva's diary -- with Rebecca Elliott's owl-dorable full-color illustrations throughout!
This is the first book of the Owl Diary series and one that I am excited to continue. Rebecca is a children's book author/illustrator and has several picture books under her name. I will need to check them out because they seem like cute books.
I first discovered this book from Becky from her blog Becky's Book Reviews. You can click on her blog name to read her review of the book.
Seeing anything with Owl in the title got me. I just have to start off by saying that the cover is the cutest.
This book is clearly aimed at children and the younger kids who can read chapter books. I breezed through the book quickly. The book is in a diary format that will make reading for the younger kids easier.
Eva is a busy little owl who sleeps during the day and keeps herself busy at night with school, crafting, handing out with her best friend, Lucy, walking her pet bat and so much more.
I fell in love with Eva right away and how could you not when you share the same likes such as pumpkin, crafting, clothes etc. If I was an owl Eva would so be my bestie.
The idea for a Treetop Festival came via her friend Lucy who was helping her mother plant flowers. Eva thought long and hard about it and came up with a plan and presented it to her teacher Mrs. Featherbottom who loved the idea but only gave Eva a week to pull it together. Can she do it?
I loved how at Eva took everything upon herself and quickly realized that its okay to ask for help. We all do that and try to do it all and its okay to realize that even though we bite of more then we can chew we can ask for help.
Eva's Treetop Festival is filled with a ton of cute illustrations and each one accompanies the story that is being told. They are all so cute,
Book 2 Eva Sees a Ghost is coming out in a few months. Will I go out and buy it? Of course I will just because its a cute book that I would love to see grow. This would make the perfect book for girls and girls who love owls. I think they would get a kick out of this series.