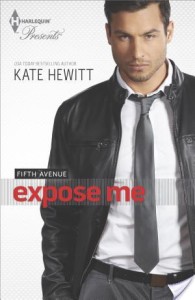 Expose Me
Series:
Fifth Avenue #3
by Kate Hewitt
Format:
ARC
Published by
Harlequin on 2014-08-01
Pages:
264
Goodreads
Genres:
Contemporary, Fiction, Romance
TEN YEARS AGO ONE DEVASTATING NIGHT CHANGED EVERYTHING FOR AUSTIN, HUNTER AND ALEX. NOW THEY MUST EACH PLAY THEIR PART IN THE REVENGE AGAINST THE ONE MAN WHO RUINED IT ALL.
With ruthless determination, Alex Diaz has risen up from his deprived roots to become the head of a global media empire. But he has one last thing to achieve…avenge his friend by destroying the man responsible for her death, Jason Treffen. With stunning talk-show host Chelsea Maxwell about to interview Treffen live on TV, this is Alex's chance.
He'll use her show to exact a very public revenge—and seducing Chelsea, if needed, would certainly be no hardship. But he underestimates Chelsea and the attraction between them, and as their relationship deepens, Alex realizes that to annihilate Treffen could also shatter the life that Chelsea has built to protect herself….
I received this book for free from publisher/pr firm in exchange for an honest review. This does not affect my opinion of the book or the content of my review.
This is the last book in the Fifth Avenue Trilogy. This has been a really fun series to read and I am a little sad that it has/is ending.
One of the good things about reading this series is, its exposed me (to pun intended) to three different authors and their books that I might not have been exposed to since I don't read alot of romance books.
I should let you know that Expose Me won't be available to purchase until the end of July. I was graciously provided and ARC of the book for my honest and sincere review as part of the tour for this series.
Expose me is about Alex and how he plans to bring down Jason for what he has done to Katy and he is determined to make Jason pay for all that he has done.
I loved Alex because he wasn't born rich like his friends were and he basically crawled his way to like his wealthy friends. Alex is now a famous journalist and is the head a  global media company. He worked hard to get where he is today.
When Alex finds out that Jason will be interviewed by talk show host Chelsea, Alex takes it upon himself to seduce Chelsea. Thinking what better way to get his revenge then publicly in front a nation full of viewers. Sounds like a revenge plan to me. He will do anything to make sure Jason even if it means sleeping with Chelsea. Will he have to go that far?
One thing I liked about Chelsea was that you she didn't take Alex's word and he literally had to get proof before she would even think about helping him. Will Alex find the proof that she needs?
When Chelsea meets with Jason to go over the interview she is forced to sign a document stating she was only allowed to ask certain questions. I think Chelsea is beginning to realize that Jason is hiding something and this is his way of making sure nothing comes of it. This blows Alex's plan out the water because you can see that at this point he is starting to care about Chelsea and thinks about risking her career just for revenge.
I liked Chelsea and how there was more to her then meets the eye. She is like Alex and didn't have it easy growing up and you can see she put up the walls around her to protect herself. She was okay with it being her secrets but when she is with Alex she thinks its time to finally let someone in. Will she tell Alex her secrets?
I just want to send out a huge thank you to Harlequin books for sending me all three copies in the Fifth Avenue Trilogy to read and review. Another huge thank you to Meryl L. Moss Media for reaching out to ask me if I would like to participate on this book tour and for the little gift bag you sent to me.
The gift bag was called the Summer Essentials and it was filled with all kinds of goodies.
Inside the gift bag was:
Avenge Me by Maisey Yates
Kissing Elixiers All Natural Fresh Breath Mist in Cinnamint
Kissing Elixiers Looks Like Love Natural Lip Balm in Mint Vanilla
Juice Beauty Stem Cellular Repair CC Cream in Natural Glow
Not Your Mother's Beat The Heat Thermal Spray
Evian Facial Spray
NYX Glam Lipstick in the shade Essential GLSA12
NYX Glam Shadow Stick in the shade GSS10 Vibrant Amethyst
NYX Love In Paris a 9 color Shadow Palette Je Ne Sais Quoi (LIP10)
(shimmer & matte/ browns, silver, cream and plum shades)