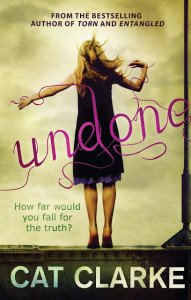 Undone
by Cat Clarke
Published by
Sourcebooks, Inc. on 2014-05-06
Pages:
384
Goodreads
Genres:
Bullying, Social Issues, Young Adult
When a highly sensitive video goes viral, one teen is left dead and another seeks revenge.
Jem Halliday is in love with her gay best friend. Its not ideal, but she's learning to live with it. Until Kai kills himself after being outed in a highly private moment.
All she has left is a series of letters he's left her-one a month, each encouraging her to come out of her shell. But Jem has a different plan. Sure, she'll be more outgoing-whatever it takes to infiltrate the group of Populars who released the video that made Kai commit suicide. And then she'll bring them down.
I received this book for free from publisher/pr firm in exchange for an honest review. This does not affect my opinion of the book or the content of my review.
For some reason I have never read any of Cat Clarke's books and I'm not quite sure why because from the descriptions I have read I know it would be something I would enjoy reading and honestly after reading this one I know I want to pick up her books and read more.
When I was reading this I wasn't sure how it would play out in the book and with my emotions because its a heavy and depressing book and I have to say that Cat did a wonderful job with the book and she tackled the subject like a pro.
My heart broke for Kai because no one should ever have to resort to killing themselves. Why can't we accept people who are different? Why do we feel the need to drag them down even further then they are? My heart also was breaking for Jem because she lost the one true thing she truly loved in the world. I wish someone would have stepped in to help her deal with the loss of her friend, her love.
Undone is told in the past and present. So you will find out a what really happened and what is happening now. It wasn't confusing at all.
Jem has always had a thing for her best friend Kai but never really said or did anything until they were much older. He was super nice and let her down gently telling her he was actually gay. This of course is heartbreaking for Jem but she never let that change in their friendship because that is the most important thing for her. She will always love Kai and she even accepts that he is gay.
Kai has never really come out to anyone and only a few selected people know and not everyone is so happy about it. I think they wished that he would have just kept his mouth shut and went on with life. For me this was a little hard because I don't think you should have to hid who you really are.
Everything changes the night Kai and Jem go to a party. A party that I think in the end that both regret going to. I think both Kai and Jem had a little too much to drink. Jem has no idea what happened at the party until the next day when a video surfaces of Kai. Kai is devasted by this and he has no idea where to go or turn to. He can't deal with it and does the only thing he knows what to do and that is to kill himself.
Jem is done. She is slowly checking out and can't handle not being with Kai. She is alone and there is no one there for her. You can see that she is thinking of just ending it but the magically Kai reaches out to her with letters he has written her. I think those letters were the saving grace for Jem because she wanted to know why he would do this to here and who would force Kai to do something like this.
The twelve letters he left for Jem to open monthly that offered little missions for Jem to accomplish and of course some of them she didn't want to do but deep down she did them for Kai and herself. I think Kai wanted another purpose for those letters and Jem took it another way. I think Kai was trying to force Jem out of her bubble and to expose her to new people etc but she took it at a way to intact revenge on those that took Kai away from her. In a way I want to say Jem was obsessed with Kai both alive and dead.
Can a love for someone you truly can't have become a person's obsession? I think so and I think this was the case for Jem.
I really enjoyed reading the book and look forward to reading Cat's other books sometime soon. There is just so many books and not enough time to read them all in.