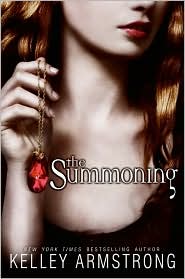 PUB DATE: July 2008
ABOUT THE BOOK:
After years of frequent moves following her mother's death, Chloe Saunders's life is finally settling down. She is attending art school, pursuing her dreams of becoming a director, making friends, meeting boys. Her biggest concern is that she's not developing as fast as her friends are. But when puberty does hit, it brings more than hormone surges. Chloe starts seeing ghosts–everywhere, demanding her attention. After she suffers a breakdown, her devoted aunt Lauren gets her into a highly recommended group home.
At first, Lyle House seems a pretty okay place, except for Chloe's small problem of fearing she might be facing a lifetime of mental illness. But as she gradually gets to know the other kids at the home–charming Simon and his ominous, unsmiling brother Derek, obnoxious Tori, and Rae, who has a "thing" for fire–Chloe begins to realize that there is something that binds them all together, and it isn't your usual "problem kid" behaviour. And together they discover that Lyle House is not your usual group home either.
MT THOUGHTS:
This is the first book in the Darkest Power trilogy. Book 3 The Reckoning is scheduled to be released May, 2010. I am so excited to read it and hoping it will answer a few questions that I have about the series. This is also Kelley's first Young Adult novel. She is well known for her adult fantasy books.
When I was on twitter one day Random House Canada was doing a give away of Kelley's first book Bitten and I was lucky enough to win it. I admitted to the rep that I have never read anything by Kelley before but I would love to. I love to discover new authors.
I quickly discovered that Kelley is a Canadian author (she lives in Southern Ontario) and I was really excited to read her book after discovering that. Then I discovered that Kelley would be coming to my local Chapters October 8th for a book signing (reading and a Q&A also) for her lastest book Frostbitten. So I rushed out to buy The Summoning in hopes of getting it signed as Bitten was already signed. (Check tomorrow for photos and info from the signing)
The Summoning is not like her adult books. There is more of a magical element to it with a twist in it. I would recommend this book to any young adult because there is no sex and what violence there is its toned down for the purpose of it being a YA book.
I was really surprised when I started to read the book at how fast I was sucked into it. As I was reading it I realized that I was having a hard time to put it down. I ended up reading this over a two day span. The first day I stayed up late reading it and thankfully the next day M. was sick so he stayed home from school and I was able to finish reading it.
The whole book had me sitting on the edge of me seat. (I love books like that.) Wondering what was going to happen and then when I got to the end I was like OMG (okay thats not really what I said but you know what I mean.) it can't end like that! Major cliff hanger. (Just a note if you are going to read it then I suggest you buy/get book two The Awakening at the same time.)
The Summoning is told in first person by a 15 year old girl named Chloe. In the first part of the book we discover that Chloe sees ghosts. At first she thinks she is loosing her mind and when one day at school she seems a ghost she freaks out. She fights off the teachers who are trying to help her. She is carted off to the hospital where her aunt Lauren gets her into The Lyle House so that they can help her get better.
Its at Lyle House where the drs diagnose Chloe with schizophrenia. (Having a family member with schizophrenia I am so what familiar with it and I didn't know that they saw ghosts I just thought it was people/images) So Chloe is given medication to control it but she still sees ghosts.
Lyle House also has other teens that are similar to Chloe and are labelled with mental health problems. They all know they don't have mental health problems but something else. Unsure of what it is exactly. Some feel that if they take the medication it will make them better.
Derek, one of the kids in with Chloe convinces her she is in danger and that she should escape with his brother Simon so that they can look for his dad. His dad will know what to do. Chloe and Derek manage to leave one night to scope it out and to plan. When the weekend approaches Derek informs them that they need to leave that night.
When they are set to go Derek goes missing and Chloe stays back to look for him and when she finds him she is surprised at what she sees but not shocked. Will Chloe and Derek be able to leave before they are caught?
On the run the leave Lyle House and run to the factories that are close by. As they are leaving the factory Chloe cuts herself on broken glass. When the girls and boys must separate to throw the employees of their trails. Rae manages to convince Chloe she needs medical attention so they leave when its save to go to aunt Lauren's.
When they get to her aunts Chloe realizes who she can and can't trust and is shocked to discover the one person she thought she could trust in facts betrays her.

While I was looking around for images of the book I discovered this one. I personally like the top cover better.
This book was provided for review by myself. I bought this book to read and review.
copyright 2010, Cindy (Cindy's Love Of Books)
If you are reading this on a blog or website other than Cindy's Love Of Books or via a feedreader, this content has been stolen and used without permission.