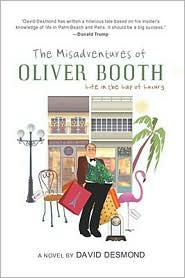 TITLE: The Misadventures of Oliver Booth
AUTHOR: David Desmond
PUB DATE: October 2008
ISBN: 9781929774562
Thank You to Julie at FSB for contacting me and asking me if I would be interested in reading and reviewing this book. I was after reading what the book was about.
Oliver Booth is the kind of person who wants to mingle and join the high society of Palm Beach. Oliver is obese, foul smelling, pesky, ambitious and an abrasive social climber. He is not the kind of person most people want to find themselves seated across from at dinner. He runs an antique shop filled with overpriced Mexican reproductions of Louis XIV.
Oliver has many misadventures that make the story funny. From loosing his balance and landing in the pool at Morningwood that made the news to getting beat up by a woman, to going to court and getting bit by his dog.
Oliver spends his time being obnoxious to his staff, bathing, and not paying his bills. Everything is past due and it doesn't seem to bother him. When Margaret Van Buren wanders into the shop looking for a bathroom for her grandson, she meets Oliver and his latest assistant, Bernard. When Bernard manages to get her to buy a commode that he picked out. She sees that Bernard has an eye for real antiques and offers them an opportunity of a lifetime- an all expenses paid shopping trip to Paris to find antiques to furnish her guest house. Bernard is just happy for the opportunity to work and learn and Oliver just wants to charge Mrs. Van Buren as much commission as he possibly can, will both men be able to get what they want? Will Mrs. Van Buren catch on to what Oliver is up too?
I enjoyed reading this quick read. It was funny to see how Oliver thought he should get everything that came his way and he had no problem taking advantage of people. It was nice to see what came to him in the end.
copyright 2010, Cindy (Cindy's Love Of Books)
If you are reading this on a blog or website other than Cindy's Love Of Books or via a feedreader, this content has been stolen and used without permission.