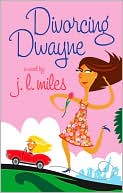 TITLE: DIVORCING DWAYNE (BOOK 1)
AUTHOR: J.L. MILES
PUB DATE: APRIL 2008
ISBN: 978-1-58182-650-0
This is the third book written by author Jackie. She has written Roseflower Creek and Cold Rock River. This is the first book in a upcoming three book series.
Divorcing Dwayne is about Francine and Dwayne's relationship. They live in Pickville, Georgia. Its a small town where everyone knows everyone business. They also know who's husband is no good.
Francine thought she had a pretty good marriage until one day when she comes home to find her husband Dwayne in bed with Carla, a stripper from the local bar. Francine was mad at Dwayne for bringing her home to their bed, one that her father had hand carved as their wedding present. She was seeing red and went to the night table and grabbed the gun and shot 3 bullets into the bed. Francine ends up in jail facing felony charges for the shooting. She wonders why she was arrested cause she didn't shoot anyone. In the jail cell she sees a phone number to a lawyer. She calls him. He is a fast talking guy that gets her out of jail and she is forced to wear an ankle monitor so that her every move can me monitored.
While Francine is in jail she ponders her life and realizes she needs to turn her life around. With the help of Ray Anne her best friend. Francine gets a job so that she reclaim her life.
Francine finds $30,000 in Dwayne and hers bank account. She knows its not theirs and fears that Dwayne is some how involved in the mob. The mob has come to town shortly after the movie people came in to make the movie. Dwayne goes missing make Francine the top of the suspect list.
There are so many great things in the book that I would love to tell you but I don't want to spoil it for you. I really enjoyed the book. There were so many moments in this book that had me laughing. My favorite character had to be Nanny Lou, she is such a character.
Book 2 in the series called Dear Dwayne is set to be released April 2009. I can't wait to read that one.
I have to say Thank You to Dorothy for sending me this book and allowing me to be a part of the tour.
You can Click Here to read the interview a blogger did with J.L.
copyright 2010, Cindy (Cindy's Love Of Books)
If you are reading this on a blog or website other than Cindy's Love Of Books or via a feedreader, this content has been stolen and used without permission.