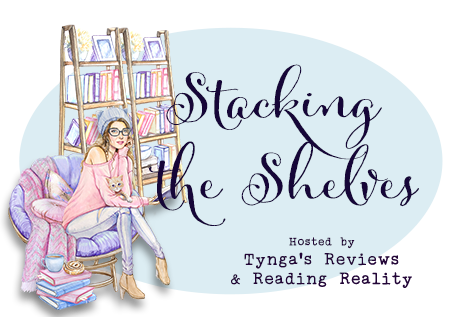 Since starting my blog back in August of 2008 I always want to share what books I get with you so that you can see what I will be reading and what new books there are out there and I am always looking for a place to link them so that others can see them so from now on I will be sharing my links on Tynga's Reviews and Reading Reality. As Marlene has offered to co-host Stacking The Shelves with Tynga's Reviews.
I am also going back to sharing my link on Mailbox Monday's blog. This was originally hosted by Marcia but it now has its own blog which you can see by clicking on THIS.
One of the things I love about these kinds of posts is finding new books that I might not normally hear about and this month I found a few goodies that I am excited about.
I have decided to go back to how I was originally posting my monthly book hauls and just showing the books I bought in the month. If I get books from a publisher I will add those in here as well.
Without further delay lets get into the books. The first 5 books were ones I bought when I attend Montreal's first ever YA Fest (so these were technically May purchases but I had already put up my post for May).  In May, Chapters had a promotion, where you spent $40 you were given a $10 gift card so I redeemed my two and bought the next two books. Chapters started this month of June off with Buy 3 and get 4th free so I picked up 4 books.  Then I had to go back and exchange two books because I had already bought them previously.
This month is a little crazy in books as you can see but I really think that the next two months will be quiet in book purchasing
Bought:
All American Boys by Brendan Kiely & Jason Reynolds
The Gospel of Winter by Brendan Kiely
Depth of Field by Chantel Guertin
Leading Lines by Chantel Guertin
Golden Hour by Chantel Guertin
Furyborn by Claire Legrand
The Death of Mrs. Westaway by Ruth Ware
The Last Wolf by Maria Vale
The Paris Wedding by Charlotte Nash
The List by Patricia Forde
Save The Date by Morgan Matson
The Life Lucy Knew by Karma Brown
The Bookshop of Yesterdays by Amy Meyerson
Little Bigfoot, Big City by Jennifer Weiner (book 2 in the series)
My Lady's Choosing: an interactive romance novel by Kitty Curran & Larissa Zageris
Midnight at the Bright Ideas bookstore by Matthew Sullivan
War Storms by Victoria Aveyard (book 4 in the series)
Chapters had another Indigo Book Box available so I figured since they were having another 10x the plum points on $25 that I would order the box. The box included a signed book (this book is massive 650+ pages), a good vibes only candle (which smells really good), a letter from the author,  exclusive Scarlet Guard insignia enamel pin and a chapters bookmark.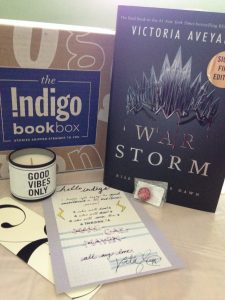 Publisher Sent The Following Books:  I quickly have to thank Thomas Allen and Annick Press for sending me these  book.
Tell Me No Lies by Adele Griffin (June 2018)
The House of One Thousand Eyes (September 2018)
The following books is what I picked up with gift cards I won for Amazon:
The Boy at the Top of the Mountain by John Boyne
Ayesha At Last by Uzma Jalaluddin
Monthly Stats:
Total books bought this month: 17
Total books I got for gifts/gift cards/redeeming points: 2
Total books Publishers sent: 2
Total books read from this months haul: 5
Yearly Stats:
Total books bought in 2018:  66
Total books I got for free: 24
Total books Publishers Sent: 8
Total books Publisher Sent Read: 5
Total overall books read in 2018 (this is going to reflect my goodreads total):  63/100

Bought:
All American Boys by Brendan Kiely & Jason Reynolds
The Last True Love Story by Brendan Kiely
The Rule of Thirds by Chantel Guertin
Summer Days, Starry Nights by Vikki VanSickly
York: The Shadow cipher by Laura Ruby
So that is the books we got this month. Have you read any of these?