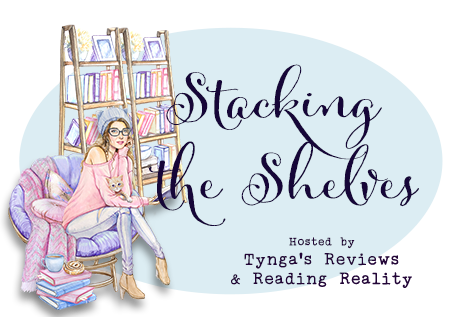 Since starting my blog back in August of 2008 I always try to share what books I get with you so that you can see what I will be reading and I am always looking for a place to link them so that others can see them so from now on I will be sharing my links on Tynga's Reviewsand Reading Reality. As Marlene has offered to co-host Stacking The Shelves with Tynga's Reviews. Marlene is a new to be blogger and I look forward to checking out her blog.
As you can see I switched this up and will be posting monthly because  I have to say since doing this instead of posting the books in my weekly haul I am much more aware of the books that I am buying.
I am trying to get better with my book buying and trying to stick to sales, bargain books or reward plum bonus point events. As a book lover its hard not to buy books.
I honestly don't know how this haul is going to go this month because I am pre-writing this as I get the books. I was on vacation the first week of the month and was in the US so I picked up a few things that I know I couldn't get here in Canada without having to order online and then Chapters has been having these sales with brand new releases so how could I pass those up? Okay just putting in an update before this is going live and I have to say I went a little over board on the books this month.
Anyways this is what I have bought this month:
Midnight at the Electric by Jodi Lynn Anderson
The Lying Game by Ruth Ware
Women's Murder Club the Medical Examiner by James Patterson with Maxine Paetro (bookshots)
The Marriage Pact by Michelle Richmond
The Dolls by James Patterson with Kecia Bal (bookshots)
Seal Wolf Undercover by Terry Spear
A Stranger in the House by Shari Lapena
The Moores are Missing by James Patterson
The One Memory of Flora Banks by Emily Barr
Frostblood by Elly Blake (#1 Frostblood Saga)
Dot Journaling: A Practical Guide by Rachel Miller Wilkerson
Wicked Like Wildfire (#1 Hibiscus Daughter)
Faithful by Alice Hoffman
The Miracle Morning by Hal Elrod
Dunkirk by Joshua Levine (this was what Michael picked up on vacation)
Holiday in the Hamptons by Sarah Morgan book 5 in the series
Magnificent Vibrations by Rick Springfield (I got this at dollarama for $3 how could I pass this up?)
All In Pieces by Suzanne Young was another bargain book
Maybe In Paris by Rebecca Christiansen
Total books bought this month: 18
Total books bought this month (Michael): 1 (not included in my total)
Total books read from this months haul: 5
Total books bought in 2017: 91
Total books read in 2017: 28 (updated this)
Be sure to follow my on Bloglovin: Follow my blog with Bloglovin