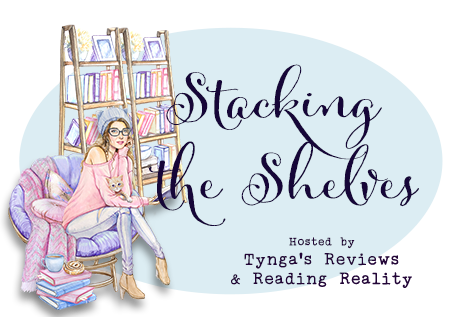 Since starting my blog back in August of 2008 I always want to share what books I get with you so that you can see what I will be reading and what new books there are out there and I am always looking for a place to link them so that others can see them so from now on I will be sharing my links on Tynga's Reviews and Reading Reality. As Marlene has offered to co-host Stacking The Shelves with Tynga's Reviews.
I am also going back to sharing my link on Mailbox Monday's blog. This was originally hosted by Marcia but it now has its own blog which you can see by clicking on THIS.
One of the things I love about these kinds of posts is finding new books that I might not normally hear about and this month I found a few goodies that I am excited about.
I have decided to go back to how I was originally posting my monthly book hauls and just showing the books I bought in the month. If I get books from a publisher I will add those in here as well.
Without further delay lets get into the books. This month was another one of those months that Chapter had to lure me into the store/order online with crazy deals such as spend $25 get 1000 bonus plum points and buy 3 books get 2500 plum points/buy 5 get 4500 plum points. Then there was a buy 5 children's book get $10 off agh these deals LOL.. Plus there was a quick USA trip planned this month.
Bought:
Her Forgiving Amish Heart by Rebecca Kertz
Hooked on a Phoenix by Ashlyn Chase
Beartown by Fredrick Backman (This was buy 2 for $15)
After Anna by Alex Lake (this was buy 2 for $15)
A Sin Such As This by Ellen Hopkins (follow up to Love Lies Beneath
Invisible Emmie by Terri Libenson
Positively Izzy by Terri Libenson
Let's Pretend We Never Met by Melissa Walker
Bombshell by Rowan Maness (so happy to have this its been on my wishlist since last year. Bonus for it being on sale for $6)
Heartwood Hotel: A True Home by Kallie George Illustrated by Stephanie Graegin book 1
Heartwood Hotel: The Greatest Gift book 2
Heartwood Hotel: Better Together book 3
Heartwood Hotel: Home Again book 4
Monday's Not Coming by Tiffany D. Jackson
Her Pretty Face by Robyn Harding
Red Rising by Pierce Brown book 1
Screenshot by Donna Cooner
All Your Perfects by Colleen Hoover
Picked up with gift cards & gifts:
The Kiss Quotient by Helen Hoang
Marriage Vacation by Pauline Turner Brooks
Going into Town: A love letter to New York by Roz Chast
Children of Blood and Bone by Tomi Adeyemi
[The books that are always in bold are books I have read from this haul.]
Monthly Stats:
Total books bought this month: 18
Total books I got for gifts/gift cards/redeeming points: 4
Total books Publishers sent: 0
Total books read from this months haul: 8
Yearly Stats:
Total books bought in 2018:  84
Total books I got for free: 28
Total books Publishers Sent: 8
Total books Publisher Sent Read: 5
Total overall books read in 2018 (this is going to reflect my goodreads total):  74/100