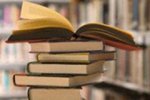 Its hard to believe its the end of June already. Where did the time go?
Earlier this month I shared what books I wanted to read this month and I thought I would share the progress I made on that list.
Depth Field by Chantel Guertin
Leading Lines by Chantel Guertin
Golden Hour by Chantel Guertin
Two Summers by Aimee Friendman
The Boat People by Sharon Bala
Every Day by David Levithan
Another Day by David Levithan
As you can see I didn't read all the books I wanted to this month but 6 out of 10 is pretty good, but  I did read a few books that weren't on the above list and they were:
How did you month in reading?