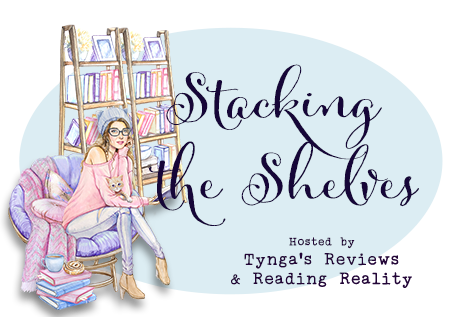 Since starting my blog back in August of 2008 I always want to share what books I get with you so that you can see what I will be reading and what new books there are out there and I am always looking for a place to link them so that others can see them so from now on I will be sharing my links on Tynga's Reviews and Reading Reality. As Marlene has offered to co-host Stacking The Shelves with Tynga's Reviews.
I am also going back to sharing my link on Mailbox Monday's blog. This was originally hosted by Marcia but it now has its own blog which you can see by clicking on THIS.
One of the things I love about these kinds of posts is finding new books that I might not normally hear about and this month I found a few goodies that I am excited about.
I have decided to go back to how I was originally posting my monthly book hauls and just showing the books I bought in the month. If I get books from a publisher I will add those in here as well.
Without further delay lets get into the books. The last six books listed are books that I bought for the first Montreal YA Fest that I am going to tomorrow. So be sure to check back for a post about that.

Bought:
Crazy Rick Asians by Kevin Kwan book 1
China Rich Girlfriend by Kevin Kwan book 2
Rich People Problems by Kevin Kwan book 3
The Girl I Used to Be by Mary Torjussen
Then She Was Gone by Lisa Jewel
Cruel Crown by Victoria Aveyard
The Hating Game by Sally Thorne
All The Ever Afters by Danielle Teller
The Favorite Sister by Jessica Knoll
The Winnowing by Vikki VanSickle
Dear Martin by Nic Stone
Beware That Girl by Teresa Toten
Two Summers by Aimee Friendman
Love Hate and other Filters by Samira Ahmed
The Last True Love Story by Brendan Kiely
Publisher Sent The Following Books:  I quickly have to thank Hachette Books for sending these books to me.
The Death House by Sarah Pinbrough
Grace and Fury by Tracy Banghart (July 2018)
The Summer of Us by Cecilia Vinesse (June 2018)
This month I managed to spend the rest of the gift card that I got for managing the Midget B team this season and the rest were mother's day gifts. I was lucky this time because I was invited to Chapters for an after hours shopping event and it was 30% off purchase.
Picked up with gift cards & gifts:
All's Fair in Love and Wolf by Terry Spear (I believe this is the 8th book in the series)
The Perfect Mother by Aimee Molloy (debut novel)
Everland by Wendy Spinale (book 1 in the series) (debut)
Umberland by Wendy Spinale (book 2 in the series)
Caraval by Stephanie Garber (book 1 in the series)(debut)
One of Us is Lying by Karen M. McManus (debut)
Heartless by Marissa Meyer
King's Cage by Victoria Aveyard (book 3 in the series)
I spotted this on the bargain table as I was walking out so I had to pick it up. Its  A Million Owls coloring book [this was on the bargain table and it was just too cute not to pick up]
Monthly Stats:
Total books bought this month: 15
Total books I got for gifts/gift cards/redeeming points: 9
Total books Publishers sent: 3
Total books read from this months haul: 2
Yearly Stats:
Total books bought in 2018:  48
Total books I got for free: 22
Total books Publishers Sent: 6
Total books Publisher Sent Read: 3
Total books read in 2018 (this will be the books I bought this year):  12/34
Total books read in 2018 (this will be for the gifted/free):  3/14
Total overall books read in 2018 (this is going to reflect my goodreads total):  51/100

This month Jennifer is sharing her first book haul with us. She also was invited to Chapters for an after hours shopping event and picked up the following books:
All By Myself, Alone by Mary Higgins Clark
Camino Island by John Grisham
Wings of Fire: Talons of Power by Tul T. Sutherland
Wings of Fire: Darkness of Fire by Tul. T. Sutherland
The Trials of Apollo: the Dark Prophecy by Rick Riordan
The Trials of Apollo: The Burnig Maze by Rick Riordan
As Old As Time: A Twisted Tale by Liz Braswell
Miss Ellicott's School for the Magically Minded by Sage Blackwood
Those are the books we got this month. Have you read any of these books?