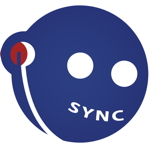 I just wanted to take a quick moment to remind you about SYNC is a free summer audiobook program for young adults but you can do this to.  From April 26th to July 25th, SYNC gives away two complete audiobook downloads a week –pairs of high interest titles, based on weekly themes. Sign up for email or text alerts and be first to know when new titles are available to download at www.audiobooksync.com.
I have always wanted to give audio books another chance and what better way then through SYNC Audio Books. These are actually both books I have never read so I am excited to give them a try.
The audiobooks this week are:
by Brittany Cavallaro | Read by Graham Halstead,Julia Whelan
Published by HarperAudio
The first book in a witty, suspenseful new trilogy about a brilliant new crime-solving duo: the teen descendants of Sherlock Holmes and John Watson. This clever page-turner will appeal to fans of Maureen Johnson and Ally Carter.
Jamie Watson has always been intrigued by Charlotte Holmes; after all, their great-great-great-grandfathers are one of the most infamous pairs in history. But the Holmes family has always been odd, and Charlotte is no exception. She's inherited Sherlock's volatility and some of his vices—and when Jamie and Charlotte end up at the same Connecticut boarding school, Charlotte makes it clear she's not looking for friends. But when a student they both have a history with dies under suspicious circumstances, ripped straight from the most terrifying of the Sherlock Holmes stories, Jamie can no longer afford to keep his distance. Danger is mounting and nowhere is safe—and the only people they can trust are each other.
Description
by David Almond, John Boyne, Tracy Chevalier,Ursula Dubosarsky, Timothée de Fombelle | Read byNico Evers-Swindell, JD Jackson, Gerard Doyle,Richard Halverson, Sarah Coomes, Nick Podehl
Published by Candlewick on Brilliance Publishing
A toy soldier. A butter dish. A compass. Mundane objects, perhaps, but to the remarkable authors in this collection, artifacts such as these have inspired stories that go to the heart of the human experience of World War I. Each author was invited to choose an object that had a connection to the war—a writing kit for David Almond, a helmet for Michael Morpurgo—and use it as the inspiration for an original short story. What results is an extraordinary collection, illustrated throughout by the award-winning Jim Kay and featuring photographs of the objects with accounts of their history and the authors' reasons for selecting them. A blend of fiction and real-life events, this unique anthology provides young readers with a personal window into the Great War and the people affected by it, and serves as an invaulable resource for families and teachers alike.
I am just about to download A Study in Charlotte so that I have it ready when I am doing some cooking, cleaning and laundry.
This book has literally been sitting on my wishlist since I first heard about it but I never picked it up so now I will be able to listen to it.
Have you read this?