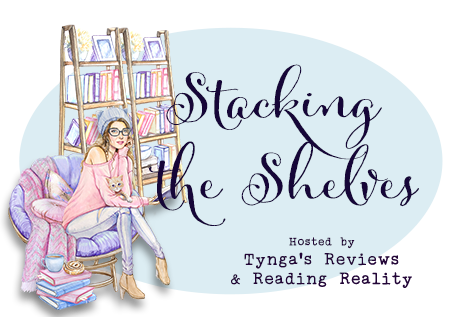 Since starting my blog back in August of 2008 I always try to share what books I get with you so that you can see what I will be reading and I am always looking for a place to link them so that others can see them so from now on I will be sharing my links on Tynga's Reviews and Reading Reality. As Marlene has offered to co-host Stacking The Shelves with Tynga's Reviews. Marlene is a new to be blogger and I look forward to checking out her blog.
Its been quite some time since I have actually done a mailbox post and thats because its been awhile since I have actually gotten books in the mail to review. So imagine my surprise when there was a package left between my doors this week.
I quickly have to thank HBG Canada for sending me this package. I am super excited to dig into these books.
One viral photo.

Four expelled teens.

Everyone's a suspect.

 

Theo Foster's Twitter account used to be anonymous–until someone posted a revealing photo that got him expelled. No final grade. No future. No fair.

Theo's resigned to a life of misery working at the local mini-mart when a miracle happens: Sasha Ellis speaks to him. Sasha Ellis knows his name. She was also expelled for a crime she didn't commit, and now he has the perfect way to get her attention: find out who set them up.

To uncover the truth, Theo has to get close to the suspects: the hacker, the quarterback, the mean girl, the vice principal, and his own best friend. What secrets are they hiding? And how can Theo catch their confessions on camera?

Pub date is October 23,2017
Pub Date: January 2018
James Patterson presents a bold new heroine–a cross between Katniss Everdeen and Annie Oakley: Serendipity Jones, the fastest sharpshooter in tomorrow's West. Seventeen-year-old Serendipity "Pity" Jones inherited two things from her mother: a pair of six shooters and perfect aim. She's been offered a life of fame and fortune in Cessation, a glittering city where lawlessness is a way of life. But the price she pays for her freedom may be too great….

In this extraordinary debut from Lyndsay Ely, the West is once again wild after a Second Civil War fractures the U.S. into a broken, dangerous land. Pity's struggle against the dark and twisted underbelly of a corrupt city will haunt you long after the final bullet is shot.
Pub Date October 2017

Raise one last glass with the Quinn Family at the Winter Street Inn.

It's been too long since the entire Quinn family has been able to celebrate the holidays under the same roof, but that's about to change. With Bart back safe and sound from Afghanistan, the Quinns are preparing for a holiday more joyous than any they've experienced in years. And Bart's safe return isn't the family's only good news: Kevin is enjoying married life with Isabelle; Patrick is getting back on his feet after paying his debt to society; Ava thinks she's finally found the love of her life; and Kelly is thrilled to see his family reunited at last. But it just wouldn't be a Quinn family gathering if things went smoothly. A celebration of everything we love–and some of the things we endure–about the holidays, WINTER SOLSTICE is Elin Hilderbrand at her festive best.
Pub Date November 2017

Named a must-read book for fall by Huffington Post, USA Today, Oprah.com, and the NY Post, a "Favorite Book So Far" by Popsugar, and one of the Most Anticipated books of November by The Millions.

The explosive debut novel – about family, power and privilege – from the creator of the award-winning Mad Men.

Mark and Karen Breakstone have constructed the idyllic life of wealth and status they always wanted, made complete by their beautiful and extraordinary daughter Heather. But they are still not quite at the top. When the new owners of the penthouse above them begin construction, an unstable stranger penetrates the security of their comfortable lives and threatens to destroy everything they've created.
I was also graciously given to earcs:
Pub date January 2018
By #1 New York Times bestselling author Holly Black, the first book in a stunning new series about a mortal girl who finds herself caught in a web of royal faerie intrigue.

 

Of course I want to be like them. They're beautiful as blades forged in some divine fire. They will live forever.

 

And Cardan is even more beautiful than the rest. I hate him more than all the others. I hate him so much that sometimes when I look at him, I can hardly breathe.

 

Jude was seven years old when her parents were murdered and she and her two sisters were stolen away to live in the treacherous High Court of Faerie. Ten years later, Jude wants nothing more than to belong there, despite her mortality. But many of the fey despise humans. Especially Prince Cardan, the youngest and wickedest son of the High King.

To win a place at the Court, she must defy him–and face the consequences.

In doing so, she becomes embroiled in palace intrigues and deceptions, discovering her own capacity for bloodshed. But as civil war threatens to drown the Courts of Faerie in violence, Jude will need to risk her life in a dangerous alliance to save her sisters, and Faerie itself.
Pub Date Dec 5th, 2017
Thanks once again HBG for sending me these books to read and review. Its truly appreciated.