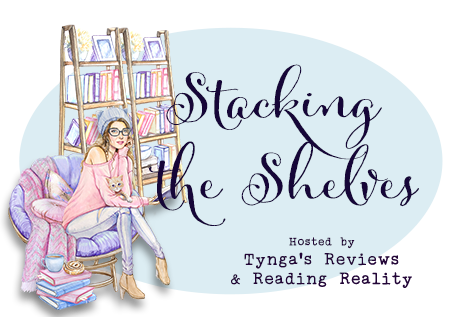 Since starting my blog back in August of 2008 I always try to share what books I get with you so that you can see what I will be reading and I am always looking for a place to link them so that others can see them so from now on I will be sharing my links on Tynga's Reviews and Reading Reality. As Marlene has offered to co-host Stacking The Shelves with Tynga's Reviews. Marlene is a new to be blogger and I look forward to checking out her blog.
Up until today (Friday) I didn't think I would be doing a mailbox post because I didn't have anything to share until today when Purolator pulled up in front of the house delivering a package for me. I want to graciously thank Hachette/Little Brown books for sending me this awesome package. I rec'ed the following books for review: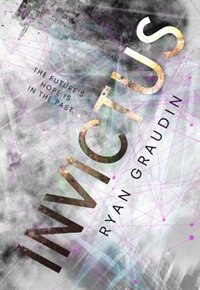 Invictus by Ryan Graudin. This is coming out September 26, 2017
ABOUT
Time flies when you're plundering history.
Farway Gaius McCarthy was born outside of time. The son of a time-traveling Recorder from 2354 AD and a gladiator living in Rome in 95 AD, Far's birth defies the laws of nature. Exploring history himself is all he's ever wanted, and after failing his final time-traveling exam, Far takes a position commanding a ship with a crew of his friends as part of a black market operation to steal valuables from the past.
But during a heist on the sinking Titanic, Far meets a mysterious girl who always seems to be one step ahead of him. Armed with knowledge that will bring Far's very existence into question, she will lead Far and his team on a race through time to discover a frightening truth: History is not as steady as it seems.
In this heart-stopping adventure, Ryan Graudin has created a fast-paced world that defies time and space.
Night of Cake & Puppets by Laini Taylor. This is coming out September 12, 2017
ABOUT
In this stand-alone companion to the New York Timesbestselling Daughter of Smoke & Bone series comes the story of Mik and Zuzana's fantastical first date–as a gorgeously illustrated gift edition with bonus content included.

Petite though she may be, Zuzana is not known for timidity. Her best friend, Karou, calls her "rabid fairy," her "voodoo eyes" are said to freeze blood, and even her older brother fears her wrath. But when it comes to the simple matter of talking to Mik, or "Violin Boy," her courage deserts her. Now, enough is enough. Zuzana is determined to make the first move, and she has a fistful of magic and a plan. It's a wonderfully elaborate treasure hunt of a plan that will take Mik all over Prague on a cold winter's night before leading him to the treasure: herself! Violin Boy is not going to know what hit him.

New York Timesbestselling author Laini Taylor brings to life a night only hinted at in the Daughter of Smoke & Bone trilogy–the magical first date of fan-favorites Zuzana and Mik. Originally published as an ebook, this new print edition will include breathtaking black and white illustrations, plus bonus content in a gorgeous package perfect for new and current fans of the series.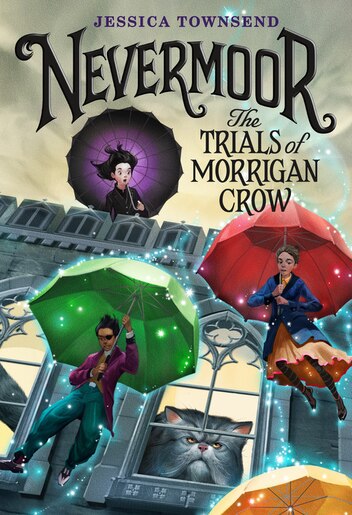 Nevermoor: The Trials of Morrigan Crow. This comes out October 31, 2017
ABOUT
A breathtaking, enchanting new series by debut author Jessica Townsend, about a cursed girl who escapes death and finds herself in a magical world–but is then tested beyond her wildest imagination
Morrigan Crow is cursed. Having been born on Eventide, the unluckiest day for any child to be born, she's blamed for all local misfortunes, from hailstorms to heart attacks–and, worst of all, the curse means that Morrigan is doomed to die at midnight on her eleventh birthday.
But as Morrigan awaits her fate, a strange and remarkable man named Jupiter North appears. Chased by black-smoke hounds and shadowy hunters on horseback, he whisks her away into the safety of a secret, magical city called Nevermoor.
It's then that Morrigan discovers Jupiter has chosen her to contend for a place in the city's most prestigious organization: the Wundrous Society. In order to join, she must compete in four difficult and dangerous trials against hundreds of other children, each boasting an extraordinary talent that sets them apart–an extraordinary talent that Morrigan insists she does not have. To stay in the safety of Nevermoor for good, Morrigan will need to find a way to pass the tests–or she'll have to leave the city to confront her deadly fate.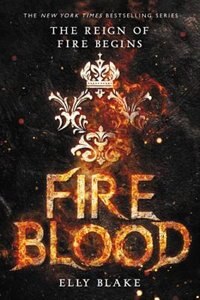 Fire Blood by Elly Blake. This is coming out September 12, 2017.
ABOUT
In this action-packed sequel to the New York Times bestselling Frostblood, Ruby must choose between her fiery homeland and the icy king who loves her.
Against all odds, Ruby has defeated the villainous Frost King and melted his powerful throne. But the bloodthirsty Minax that was trapped inside is now haunting her kingdom and everyone she loves. The answers to its demise may lie to the south in Sudesia, the land of the Firebloods, and a country that holds the secrets to Ruby's powers and past….
Despite warnings from her beloved Arcus, Ruby accompanies a roguish Fireblood named Kai to Sudesia, where she must master her control of fire in a series of trials to gain the trust of the suspicious Fireblood queen. Only then can she hope to access the knowledge that could defeat the rampaging Minax–which grows closer every moment. But as sparks fly in her moments alone with Kai, how can Ruby decide whom to trust? The fate of both kingdoms is now in her hands.
This is what came in my mailbox, what did you get in yours?