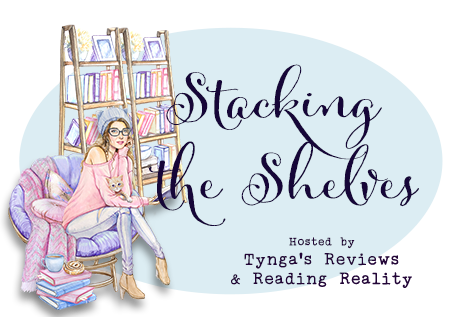 Since starting my blog back in August of 2008 I always try to share what books I get with you so that you can see what I will be reading and I am always looking for a place to link them so that others can see them so from now on I will be sharing my links on Tynga's Reviews and Reading Reality. As Marlene has offered to co-host Stacking The Shelves with Tynga's Reviews. Marlene is a new to be blogger and I look forward to checking out her blog.
I didn't think I would have anything to post this week but I do. The book that I got in the mail was:
This book was a freebie that I picked up with my Harlequin Reward My Rewards Program.
If you are new to the Harlequin My Rewards Program its a fun, FREE program that rewards you for all the Harlequin books you buy in stores, online and at Harlequin.com.
There are four easy ways to get My Reward points:
Purchase Harlequin books at any store, including Harlequin.com. You'll earn 100 points for each $1 of the book cover price. To get the points for books purchased in store all you need to do is email them a copy of your receipt.Earn 100 points for each $1 of the book cover price. Cover prices can be checked online or on the back of each book.
Complete your Romance Reader Profile and earn 2000 points just for telling us what you love to read.
Take our weekly Book Challenges and earn bonus points by tweeting about a book, sharing book ideas, completing surveys and more. Check in every week to see the latest challenge. There is usually new stuff every Monday and Thursday.
Participate in our fun and exciting Facebook activities. Check in every week to see what's new.
To use my referral link to sign up all you need to do is CLICK ON THIS and it will take you directly there and I would greatly appreciate 
because all referral links will be credited towards a free book.
To redeem for a free book valued at $8.99 or less you need 5000 My Rewards points. You can redeem for a free physical book or an ebook and shipping is completely free. There is so much you can do on the Harlequin My Rewards site that you should go and check it out.