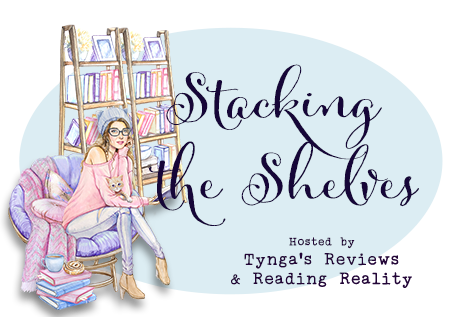 I am back and will be sharing my links on Tynga's Reviews and Reading Reality. As Marlene has offered to co-host Stacking The Shelves with Tynga's Reviews. Marlene is a new to be blogger and I look forward to checking out her blog.
As you can see I switched this up and will be posting monthly because  I have to say since doing this instead of posting the books in my weekly haul I am much more aware of the books that I am buying. This year I am making it my top priority to read the ones I am buying before buying new ones. I know its easier said then done but that is my goal.
I will try to update this post throughout the month with links of the books I have read and reviewed.
I am trying to get better with my book buying and trying to stick to sales, bargain books or reward plum bonus point events. As a book buyer its hard not to buy books but its harder not to buy them.
Killing Kate by Alex Lake
The Sacrifice of Sunshine Girl by Paige McKenzie
The Handmaid's Tale by Margaret Atwood
Detective Cross by James Patterson
Private Gold by James Patterson
Charm (Fairy Tales 2) by Sarah Pinborough
Beauty Tales from the Kingdom Book 3 by Sarah Pinborough
The Third Wife by Lisa Jewel
York by Laura Ruby (book 1 of The Shadow Cipher)
Owl Diaries Baxter is Missing by Rebecca Elliott
New York Actually by Sarah Morgan
The Glass Arrow by Kristen Simmons
Total books bought this month: 12
Total books bought this month (Michael): 0
Total books read from this months haul: 5
Total books bought in 2017: 61
Total books read in 2017: 20