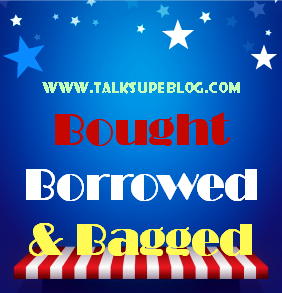 I have decided that I will be  taking part in the Bought, Borrowed and Bagged (BB&B) that is hosted by Frankie AKA Braine over at http://www.talksupeblog.com/ . This is a weekly meme where you share what books you have bought, borrowed or bagged (this would be books you won or that were gifted to you).
As you can see I switched this up and will be posting monthly because  I have to say since doing this instead of posting the books in my weekly haul I am much more aware of the books that I am buying. This year I am making it my top priority to read the ones I am buying before buying new ones. I know its easier said then done but that is my goal.
I will try to update this post throughout the month with links of the books I have read and reviewed.
I am trying to get better with my book buying and trying to stick to sales, bargain books or reward plum bonus point events. As a book buyer its hard not to buy books but its harder not to buy them.
Miss You by Kate Eberlen
The outliers by Kimberly McCreight
A Silver Wolf Christmas by Terry Spear
The Mating Season by Laurie Horowitz (bookshots)
The Crown's Game by Evelyn Skye
Missing by Kelley Armstrong
Between A Wold and a Hard Place by Terry Spear
The Isle of the Lost by Melissa De La Cruz (book 1)
Maud by Melanie J. Fishbane
The Taper Twins Run For President by Geoff Rodkey
Gone Without a Trace by Mary Torjussen
I Found You by Lisa Jewell
The House We Grew Up in by Lisa Jewell
Home Ice Advantage by Tom Earle (birthday present for Michael)
Neil Flambe and the Marco Polo Murders by Kevin Sylvester (birthday present for Michael)
Total books bought this month: 13
Total books bought this month (Michael): 2 (birthday gifts)
Total books read from this months haul: 2
Total books bought in 2017: 49
Total books read in 2017: 15