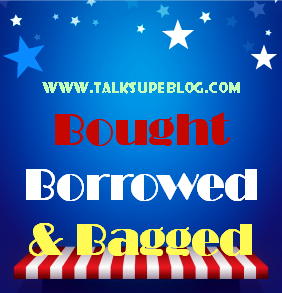 I have decided that I will be  taking part in the Bought, Borrowed and Bagged (BB&B) that is hosted by Frankie AKA Braine over at http://www.talksupeblog.com/ . This is a weekly meme where you share what books you have bought, borrowed or bagged (this would be books you won or that were gifted to you).
As you can see I switched this up and will be posting monthly because  I have to say since doing this instead of posting the books in my weekly haul I am much more aware of the books that I am buying. This year I am making it my top priority to read the ones I am buying before buying new ones. I know its easier said then done but that is my goal.
I will try to update this post throughout the month with links of the books I have read and reviewed.
I am trying to get better with the books I buy and trying to read them but it seems like there are so many new and exciting books out there. Hopefully this month will be a little bit better then previously.
She Means Business by Carrie Green
Rooms by Lauren Oliver (this was on the bargain table. I never heard of this one)
Just Fly Away by  Andrew McCarthy (I just had to snag this one)
In A Dark Dark Wood by Ruth Ware (Loved woman in Cabin 10)
Big Little Lies by Liane Moriarty
Thanks for the Trouble by Tommy Wallach
Proof of Lies by Diana Rodriguez wallach
Stranger then Fiction by Chris Colfer (another one I had to snag)
Broken Glass by V.C Andrews
Total books bought this month: 9
Total books bought this month (Michael): 0
Total books read from this months haul: 2
Total books bought in 2017: 36
Total books read in 2017: 12