Its hard to believe its that time of the week for another mailbox post.
The host of the mailbox meme is: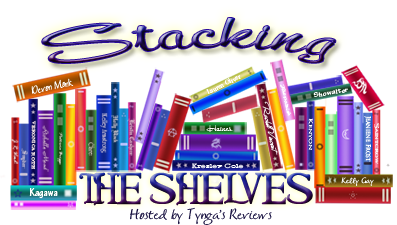 You can click on the above image to take you directly to Tynga's Reviews
Its hard to believe I have another Stacking the Shelves meme this week but I do and I just want to send out a huge thank you to Hachette Book Group here in Canada for sending me these awesome books to read and review over the next two-three months. I am so excited that I can't wait to dig into them.
This is scheduled to be released February 20th, 2017 in hardcover.
In a world run by machines, humans are an endangered species.
The Great War is over. The Robots have won. The humans who survived have two choices–they can submit and serve the vicious rulers they created or be banished to the Reserve, a desolate, unforgiving landscape where it's a crime to be human. And the robots aren't content–following the orders of their soulless leader, they're planning to conquer humanity's last refuge. With nothing left to lose, Six, a feisty, determined young woman whose family was killed with the first shots of the war, is a rebel with a cause. On the run for her life after an attempted massacre, Six is determined to save humanity before the robots finish what the Great War started and wipe humans off the face of the earth, once and for all.
This is scheduled to be released March 7th, 2017 in hardcover.
Anna and the French Kiss meets Before Sunrise in this smart and swoony debut.
Sophia has seven days left in Tokyo before she moves back to the States. Seven Days to say good-bye to the electric city, her wild best friend, and the boy she's harbored a semi-secret crush on for years. Seven perfect days….Until Jamie Foster-Collins moves back to Japan and ruins everything.
Jamie and Sophia have a history of heartbreak, and the last thing Sophia wants is for him to steal her leaving thunder with his stupid arriving thunder. Yet as the week counts down, the relationships she thought were stable begin to explode around her. And Jamie is the one who helps her pick up the pieces. Sophia is forced to admit she may have misjudged Jamie, but can their seven short days of Tokyo adventures end in anything but good-bye?
This is scheduled to be released March 28th, 2017 in hardcover.
A new epic fantasy by National Book Award finalist and New York Times bestselling author Laini Taylor of the Daughter of Smoke & Bone trilogy.
The dream chooses the dreamer, not the other way around—and Lazlo Strange, war orphan and junior librarian, has always feared that his dream chose poorly. Since he was five years old he's been obsessed with the mythic lost city of Weep, but it would take someone bolder than he to cross half the world in search of it. Then a stunning opportunity presents itself, in the person of a hero called the Godslayer and a band of legendary warriors, and he has to seize his chance to lose his dream forever.
What happened in Weep two hundred years ago to cut it off from the rest of the world? What exactly did the Godslayer slay that went by the name of god? And what is the mysterious problem he now seeks help in solving?
The answers await in Weep, but so do more mysteries–including the blue-skinned goddess who appears in Lazlo's dreams. How did he dream her before he knew she existed? and if all the gods are dead, why does she seem so real?
In this sweeping and breathtaking new novel by National Book Award finalist Laini Taylor, author of the New York Times bestselling Daughter of Smoke & Bone trilogy, the shadow of the past is as real as the ghosts who haunt the citadel of murdered gods. Fall into a mythical world of dread and wonder, moths and nightmares, love and carnage.
Welcome to Weep.
This is scheduled to be released April 4th, 2017 in hardcover.
She's a soldier.
Noemi Vidal is seventeen years old and sworn to protect her planet, Genesis. She's willing to risk anything–including her own life. To their enemies on Earth, she's a rebel.
He's a machine.
Abandoned in space for years, utterly alone, Abel has advanced programming that's begun to evolve. He wants only to protect his creator, and to be free. To the people of Genesis, he's an abomination.
Noemi and Abel are enemies in an interstellar war, forced by chance to work together as they embark on a daring journey through the stars. Their efforts would end the fighting for good, but they're not without sacrifice. The stakes are even higher than either of them first realized, and the more time they spend together, the more they're forced to question everything they'd been taught was true.