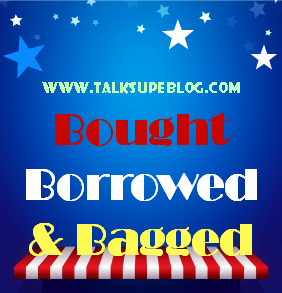 I decided that I am going to take part  in the Bought, Borrowed and Bagged (BB&B) that is hosted by Frankie AKA Braine over at http://www.talksupeblog.com/ . This is a weekly meme where you share what books you have bought, borrowed or bagged (this would be books you won or that were gifted to you).
I will be making this into its own feature instead of putting it in my mailbox posts from today on since I do get some gifted books and I usually forget to share them.
Lets get started. I hope you enjoy seeing these kinds of posts. Please let me know if you do.
Gifted to me from my friend Jennifer:
Dashing Through The Snow by Debbie Macomber
Kidnapped at Christmas by Maggie K. Black
Our First Christmas by Lisa Jackson, Mary Burton, Mary Carter and Cathy Lamb
Yuletide Fugitive Threat by Sandra Robbins
I got a gift card from Chapters from my sister for my bday so I bought:
I can't wait to start this series by A.G Howard. Have you read it?
as well as this one:
This has been on my wishlist since it came out and I can't wait to read this. Have you read it?
I was also gifted another Chapters gift card from my sister/brother-in-law/niece & nephew for Christmas so I went and picked up the following during boxing week because they had a promotion of $20 off.
The House Husband by James Patterson & Duane Swierczynski (bookshots)
A Wedding In Maine by Jen McLaughlin (bookshots) (book 2)
Exquisite by Elizabeth Hayley (bookshots) (book 3)
Hidden by James Patterson & James O. Born (bookshots)
Unhooked by Lisa Maxwell
I See You by Clare Mackintosh
What books have you been gifted lately? Be sure to come back next week because I have another post with books I have been gifted from Lucy from Moonlight Gleam Reviews.