Its hard to believe its that time of the week for another mailbox post.
The hosts of the mailbox memes are: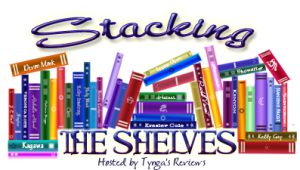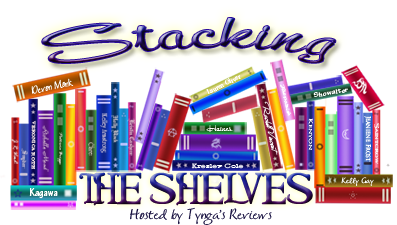 Tynga's Reviews is the host of Stacking the Shelves and the other host is Mailbox Monday which now has its own blog.
Mailbox Monday will no longer be hosted monthly by different bloggers.
I am also going to be taking part in the Bought, Borrowed and Bagged (BB&B) that is hosted by Frankie AKA Braine over at http://www.talksupeblog.com/ . This is a weekly meme where you share what books you have bought, borrowed or bagged (this would be books you won or that were gifted to you).
Good morning everyone. I am back with my February Book haul. When I had started this post earlier in the month it wasn't suppose to be a big haul because when we went to chapters (the first chapters trip) we had issues as you will see below but then the last trip they had 10x the plum points when you spent $30 + a sale = big haul.
First thing was I had placed on order for a book in early January and was told it would ship in 1-3 weeks and I would get it February 4th. Well I have been tracking the status and nothing was happening so I emailed them to inquire what was going on and I was told that it wasn't in stock and I would find out the status before the 4th. Okay understandable. I was still keeping on eye on it and finally after a month it was still pending and no further emails to update what was going on . So I emailed to inquire because both Amazon.ca and Book Depository had it in stock well funny enough they just got that shipment in but there would be another delay in shipping it because it was going to the store. Which could be anywhere from a week plus so I was a little annoyed and voiced my concern and needless to say that they are sending the book to my house at no cost to me as an act of good faith. This is the book I have anxiously been waiting for.
So the first trip of the month we really wanted to go because we had that $10 gift card from our last purchase there and they also had a 250 plum point bonus if you bought something from a selected list of gifts for her for Valentine's day so I picked up: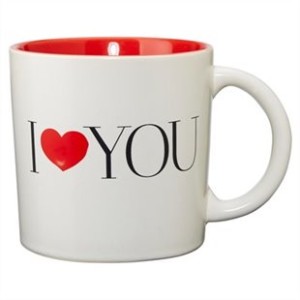 They also had another promo where it was 5x the plum points on Books to Love well needless to say even though that promo was valid in store the sale prices were online items only so buying the book in store you would pay full price. Then on top of that the two books I would have purchase they didn't even have in stock.
This just seems to be the trend lately with Chapters. Its like Chapters would rather you shop online then go into a store and for me I want to be in the store purchasing books because you might pick up something you might normally not pick up otherwise or the book you thought you were getting but decided it wasn't what you thought it was.
So from that visit I picked up:

Its a 3 pack of 80 lined page notebook and its regularly $11.95 and it was on sale for $6.00
The books I picked up were:
I love reading Terry's books and my review for this will be up in the next few days.

I have been hearing a lot about November 9 so I had to pick it up. This is my first book by Colleen Hoover that I am going to read. My review will be posted tomorrow.

Ink and Bone by Rachel Caine has been another book I have been hearing a lot about and I haven't read anything by this author yet so I am exited to read this one as well.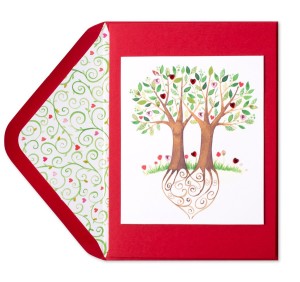 Finally the last item I bought was this card. They were running a promo that if you bought a greeting card you could get a min of 5% off your purchase or you whole purchase free. I got 5% off. The card is cute so I plan on putting it in a frame to hang.
I had to go to Walmart because Michael's HS (high school)  is doing a sock drive for a local organization that hands them out to the homeless and I spotted these two books on sale and they were $4 each:
While I was grocery shopping this month I spotted this and had to pick it up because I really like the pictures you get to color.

Finally the last part of the haul is a result of 10x the plum points when you spend $30 + a few books on sale: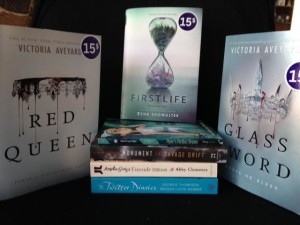 Red Queen & Glass Sword by Victoria Aveyard were both on sale for $15. I have been wanting to read this series and the covers are beautiful. I saved $16.98
First Life by Gena Showalter was also on sale for $15 and I have never read anything by Gena before so I figured a brand new series would be the perfect place to start and I saved $5.99
Star Darlings #7 Piper's Perfect Dream is a cute little series that I am enjoying.
Monument 14 Savage Drift by Emmy Laybourne is the third and final book in the series that I want to finish up.
Amelia Grey's Fireseide Dream by Abby Clements. I am really enjoying this author's books and this was on bargain for $4.99
The Twitter Diaries by Imogen Lloyd Webber was also on the bargain table for $5 and its told entirely in twitter format.
Total books bought in 2016: 21
Total coloring books bought in 2016: 2
Total books read from this purchase: 5
Total books read from 2016 haul:  9