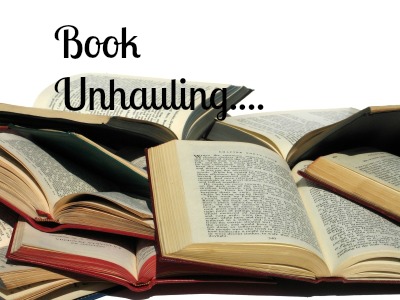 Good Thursday morning everyone and Happy New Year. Its that time of the month where I show what books I am unhauling this month. Its hard to believe that this is literally the last post of 2015. I do plan on continuing this in 2016.
I decided way back in  January (2015) that I wanted to document how many books I was giving away each month to see if I was making any kind of dent in my book collection. As of right now it seems like I am buying more then I am unhauling so it seems like what I am unhauling I am bringing new stuff in.
I have thought about it and starting in January I plan on  documenting  a monthly book haul purchase at the end of the month to show case the books I bought in that month so that could mean that my mailbox post will be emtpy at times.
Are you a constant book buyer? Can you resist buying books on a weekly bases? Please tell me I am not alone in this?
This month I didn't unhaul much in books as you can see but at least they are being sent to another loving home that will read them and hopefully pass them on.
The Winter Wedding by Abby Clements
Meet Me Under The Mistletoe by Abby Clements
The Mystics of Mile End by Sigal Samuel
Thea Stilton and the Missing Myth
A Amish Second Christmas by Beth Wiseman, Kathleen Fuller & Tricia Goyer
The Iron Trial by Cassandra Clare and Holly Black
Starry Night by Debbie Macomber
A Plain & Simple Christmas by Amy Clipston
So I am releasing  8 books that I hope will make it to a loving readers hands and that will bring my total to 211 books that I have purged since January 2015. I am quite pleased with that total and I know there is a bunch of books that got donated before I was able to document them but that is okay.
I am looking forward to continuing this in 2016.