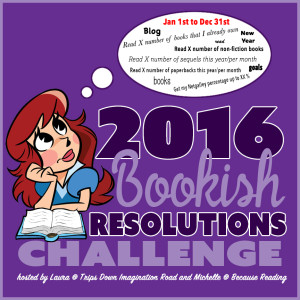 I quickly want to thank Michelle from Because Reading is better then real life for bringing the 2016 Bookish Resolutions Challenge to my attention because I never heard of this before.
The 2016 Bookish Resolutions Challenge hosted by Laura @ trips down imagination road and Michelle @Because Reading. 
You can sign up anytime between December 1st to March 1st, the challenge starts January 1st and ends December 31st. The 2016 Bookish Resolutions Challenge is about setting New Years Resolutions for books and book blogging (though we're not too mean…one of your resolutions can be a personal goal!) You can sign up via blog post, Facebook, Twitter or Goodreads! 

Rules:

1.     

This is a year long Challenge it starts January 1st 2016 and ends December 31, 2016.

2.     

You have 3 Main goals to choose from; Blogging Goal, Reading Goal or Personal Goal.

3.     

You must pick at least 2 Main goals and each main goal must have at least 1 sub-goals – there's no upper limit (except Blogging Goals you need a minimum of 5) as you would like (see below for a list of examples)

4.     

Create a sign up post and add it to the Linky on this post (sign up before March 1st)

5.     

On the 30th of each month (and the 29th for February) create an update post about your goals and add the post to the Linky that will be on Michelle's or My blog

6.     

This is a year long challenge once you do a sign up post you can add or take away goals as you would like BUT on Jan 1st you will no longer be able change the list.

7.     

We are also having 3 Twitter Parties.

8.     

Use the Hashtag #Bookishresloutions to update us on how you are doing throughout the year.
Reading Goals:
Get my NetGalley score back up to 75%.
To read all the books I have in my NetGalley shelf before requesting more.
To read at least 2 (a month) of my own physical books a month. (Books that I have purchased)
To read at least 2 (a month) of the books I have on my Kindle app.
To read at least 3 series that I have sitting on my shelf.
Blogging Goals:
Update the challenge page monthly.
Read a book, review the book before starting a new book.
Visit and comment on more blogs.
During the week work on having some rainy day posts in draft for when you need them.
Spend one day a month cleaning up the blog, work on adding things to the blog and to update my good reads page (https://www.goodreads.com/user/show/1554784-cindy)
Personal Goals:
To finish knitting the scarf I started years ago.
Get back into cross stitching as I have a few patterns I want to make.
Work on my daily affirmation jar.
To curb the book buying. Its has gotten a little excession in the past year.
To eat healthier and to lose weight.
This seems like it will be fun and I tried to keep my goals realistic in all sections. Do you make resolutions?