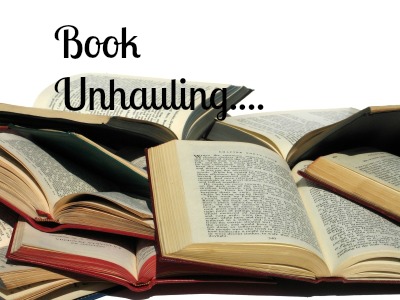 Good Sunday morning everyone. Its that time of the month where I show what books I am unhauling this month. Its hard to believe we are entering the month of December and that this is almost the end of 2015, where is the time going?
I decided way back in  January (2015) that I wanted to document how many books I was giving away each month to see if I was making any kind of dent in my book collection. As of right now it seems like I am buying more then I am unhauling so it seems like what I am unhauling I am bringing new stuff in.
Although I think next year (January 2016) I need to document a monthly book haul purchases, that might be the thing that could scare me and stop myself from buying so many books each month because realistically I add them to my  mailbox post and I never give it a second glace and don't really see it but  perhaps at a months glace it could be an eye opener. Something to think about right? I have decided that I am going to be doing a monthly book haul purchase instead of show casing the books weekly.
Are you a constant book buyer? Can you resist buying books on a weekly bases? Please tell me I am not alone in this?
This month I didn't unhaul much in books as you can see but at least they are being sent to another loving home that will read them and hopefully pass them on.
Dumplin' by Julie Murphy
Silence of the Wolf by Terry Spears (this is a duplicate copy)
The Dirt Diary by Anna Staniszewski (this is a duplicate copy)
Christmas with Krabby Klaws
Good Sam by Dete Meserve
Dangerous Lies by Becca Fitzpatrick
Myles & The Monster Outside by Philippa Dowding
The Travel of PJ Mouse in Queensland
The Travel of PJ Mouse in Canada
I Didn't Do My Homework Because…
Over The River & Through The Wood
Here comes Destructosaurus
At The Same Moment in the World
Busy Bunny Days in the Town, On the Farm and At The Port
Lately Lily,
Follow That Map
Dashing Through The Snow
100 Science Experiments
Goose Berry Patch Christmas 11
Goose Berry Patch Christmas 12
So I am releasing 20 books that I hope will make it to a loving readers hands and that will bring my total to 203 books that I have purged since January 2015.
I am sure in my next unhauling post I will have a lot more since it will be December and I am hoping to make some head way in our basement so that we can finish the renovations and get some bookshelves put up so that I can finally get the books out of boxes which will clear up a whole lotta space down there.