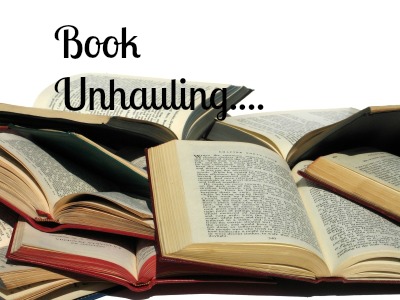 Good Friday morning everyone. Its that time of the month where I show what books I am unhauling this month. Its hard to believe we are entering the month of November, where is the time going?
I decided in January that I wanted to document how many books I was giving away each month to see if I was making any kind of dent in my book collection. As of right now it seems like I am buying more then I am unhauling but at least its making me aware that I am reading and passing my books along which is a good thing. Right?
Although I think next year (January 2016) I need to document a monthly book haul purchases, that might be the thing that could scare me and stop myself from buying so many books each month because realistically I add them to my  mailbox post and I never give it a second glace and don't really see it but  perhaps at a months glace it could be an eye opener. Something to think about right? I have decided that I am going to be doing a monthly book haul purchase instead of show casing the books weekly.
Are you a constant book buyer? Can you resist buying books on a weekly bases? Please tell me I am not alone in this?
This month I have decided to be ruthless and I purged quite a bit of books as you will see in the following pictures:
So I am releasing 62 books that I hope will make it to a loving readers hands and that will bring my total to 183 books that I have purged since January 2015.
I have read a few of the books and I have to be realistic because I know I will never re-read them again. As you can see I was a fan of Oprah's book club, were you?